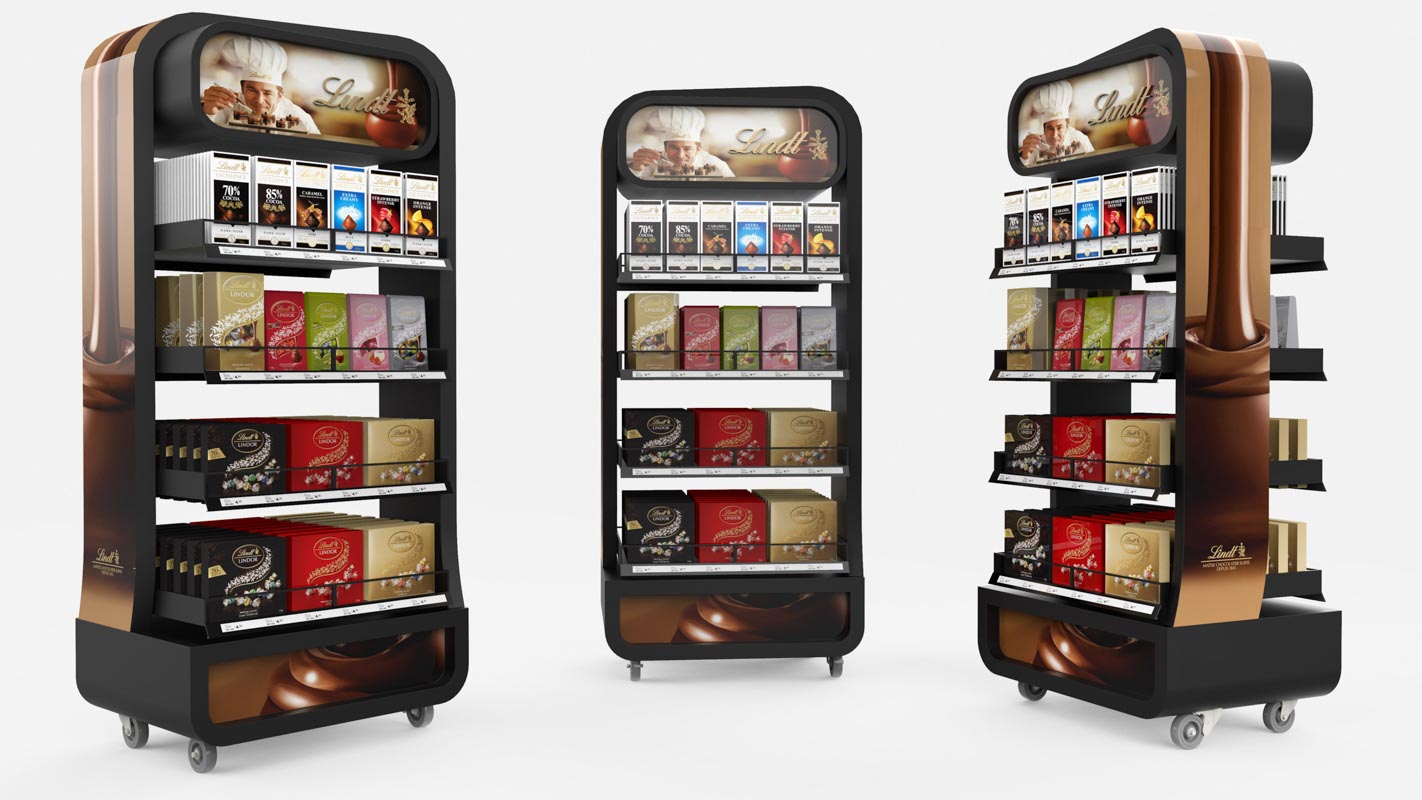 Lindt Chocolate permanent retail display custom made for supermarkets.
Custom designed point of sale that grew in store market share
We met with Lindt who were after cardboard display stands to use across their retail outlets to secure off location retail store space. Our initial discussions revolved around our Presto POP display unit which can be installed in less than 10 seconds. 
Although the discussion then moved to the idea of updating their current in-store displays with something that had a more premium feel and could be treated as a permanent display. Their goal was to secure long term retail floor space and the extra investment in a metal display could see them achieve permanent placement to increase their retail share of space.
The other idea they had was the display could be on wheels so that supermarket staff could move it to off location spaces when it was seasonal promotional time like Valentine's Day, Mother's Day or Christmas.
HOW WE DESIGNED THIS PERMANENT DISPLAY SOLUTION
The Lindt brand team needed a display that would look and feel premium to align with their brand positioning in the market. So they weren't interested in maximum stock weight or trying to fit thousands of units onto a single display, the aesthetic needed to feel luxurious to have visual impact on the crowded supermarket shop floor.
We created a number of design ideas that had different elements and shapes to choose from. Ultimately they chose a design that emulated the soft flow of chocolate.
Each design idea needed to be simple to move, re-stock and also be double sided to take advantage of shopper traffic from different areas of the store.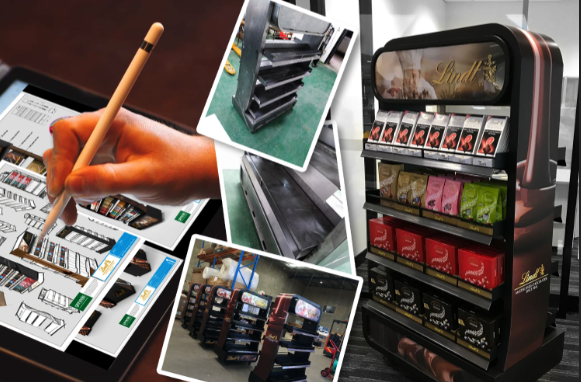 A custom design metal display stand on wheels.


National installation in supermarkets.



Clever point of sale design with curved edges and shapes.
After a number of iterations the final design was chosen which was a full metal design on wheels that had soft edges that required a number of manufacturing challenges to be met to deliver such complex curves and shapes.
The displays were installed in supermarkets across Australia and subsequently we have developed a smaller version to suit different sized retail footprints.