A cardboard product display
stand that is set up in 20 seconds
Our unique Presto cardboard display POS available in Australia
NORMAL DISPLAY STAND
AVERAGE BUILD TIME
PRESTO DISPLAY STANDS
AVERAGE BUILD TIME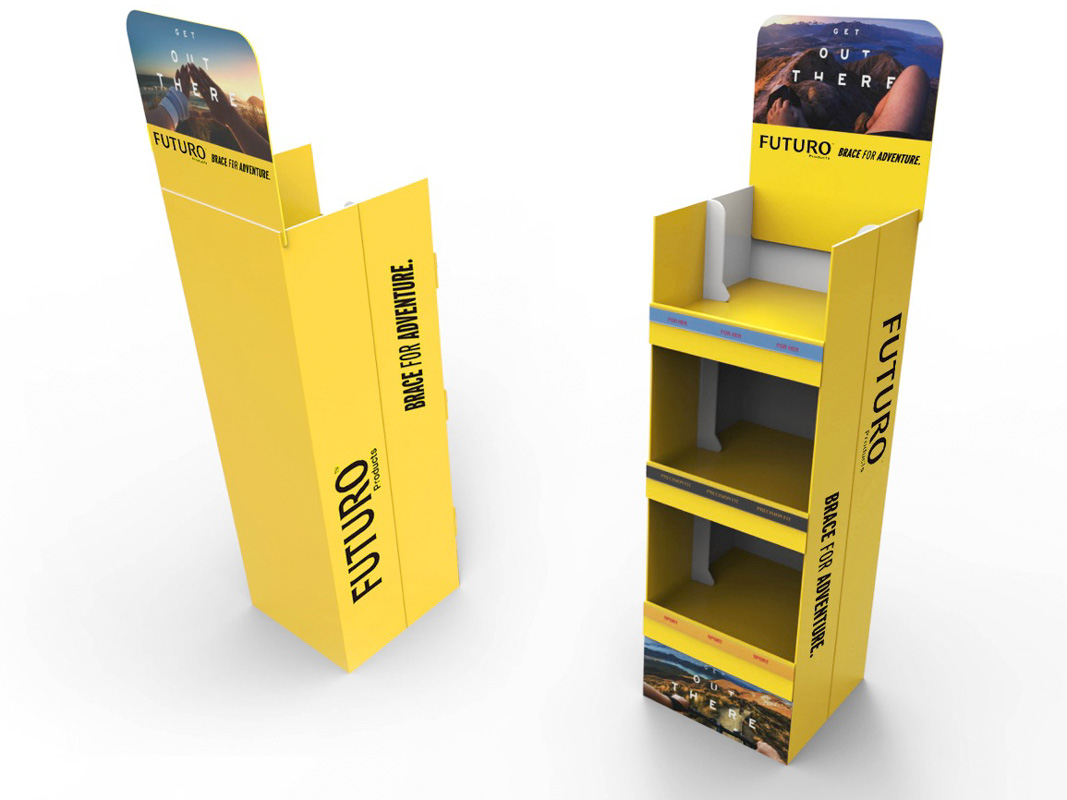 PRESTO EASY TO SET UP CARDBOARD
PRODUCT DISPLAY STANDS
As you can see in the video, the result of the Presto POS display design speaks for itself. You literally pull it out of the flat pack and pop it up, there is no messing around trying to get bits to fit. Then you simply place the products ready for sale and the header board if that is part of the design.
The challenge was about increasing the number of stores a merchandiser can complete in a day and how to reduce the required skill level to build a stand. Our design department created the Presto Cardboard Free Standing Display Unit and it was received enthusiastically by the market.
We produced and tested dozens of prototypes and it has been used over the years for everything from baby formula, coffee, health, beauty and sports products. Another advantage is that in many cases assembly is so simple that these displays can be sent direct to store without the need to send a merchandiser at all. This is particularly helpful for retail stores in remote locations.
PRESTO DISPLAY STANDS
SAVE MONEY ON RETAIL MERCHANDISERS
SET UP COST FOR
1,500 DISPLAY STANDS

$4,300+
SET UP COST FOR
1,500 PRESTO STANDS

$430+
If we assume the average hourly cost of a retail merchandiser is $35 and it takes around 5 minutes per display to set up a standard cardboard display then the added costs become quite obvious. A Presto Cardboard Product Display stand can be set up in seconds and save thousands in labour costs of merchandisers or retail staff.
Cardboard display stands are the most used point of sale item across Australian retail. They are relatively cheap, simple to use and can be designed to fit into lots of different places of a retail shop environment. Most brands will opt to create flat packed cardboard display stands that are sent out to retail stores and then have either the retail shop staff or a merchandising team visit the stores to build them.
The time and associated merchandising cost required to assemble common point of sale displays can be significant, particularly when you have hundreds or thousands of stores to execute. Often the window of time available from retailers to rollout POS programs can be very tight, so the ability to get more done in a shorter time frame is desirable.
We created the Presto Cardboard Display Stand to be the fastest, most simplest way to get a stand installed in a retail store. It means instead of paying a merchandiser for maybe 20 or 30 minutes a visit, a stand can be set up in less than 30 seconds.
This saves thousands in paying for staff costs, resources and time. It means you can execute your in store marketing strategy for your product much faster than normal.
FAST & EASY RETAIL HEAD
OFFICE APPROVALS
With more than 10 years creating point of sale displays for retail stores we know how hard it is for brands to get approval from retailers to execute display roll outs. That is why we developed the Presto display stand.
Fast in store set up; this means retail floor staff are not spending long periods of time to install displays, this makes it easier for a retail buyer to get approval from operations teams.
Increased compliance; if you make it easy to execute point of sale in store then you increase the compliance of stores using that materials. We often see POS displays in back rooms, warehouses or the rubbish bin because they were too hard to set up.
Supportive retail staff; if you make it easy for retail staff then it reflects well on your brand & leaves a positive impression on them. This improves your chances of them recommending your product & making sure it is displayed well.
Retail simplicity; the hardest thing for any retail brand to achieve is execution simplicity. The Presto display makes that possible and removes any potential doubt about being able to roll out the stands in volume.
Double sided displays; cheaper display stands might not enable a design that can be used or seen from multiple sides. Not only is the Presto display stand fast to set up but the graphic design elements can be printed to be suitable for viewing from all angles.
Small footprint; every inch of retail costs thousands of dollars in rent, the Presto display not only saves retailers time, but takes up a very small footprint making it ideal for placement in small, medium or large format retail stores.
Lightweight, durable design; we don't use cheap, thin cardboard which means the display will last for a good period of time and stand up to the tough retail environments. We ensure each design is weight tested to ensure your products will work on the Presto display stand.