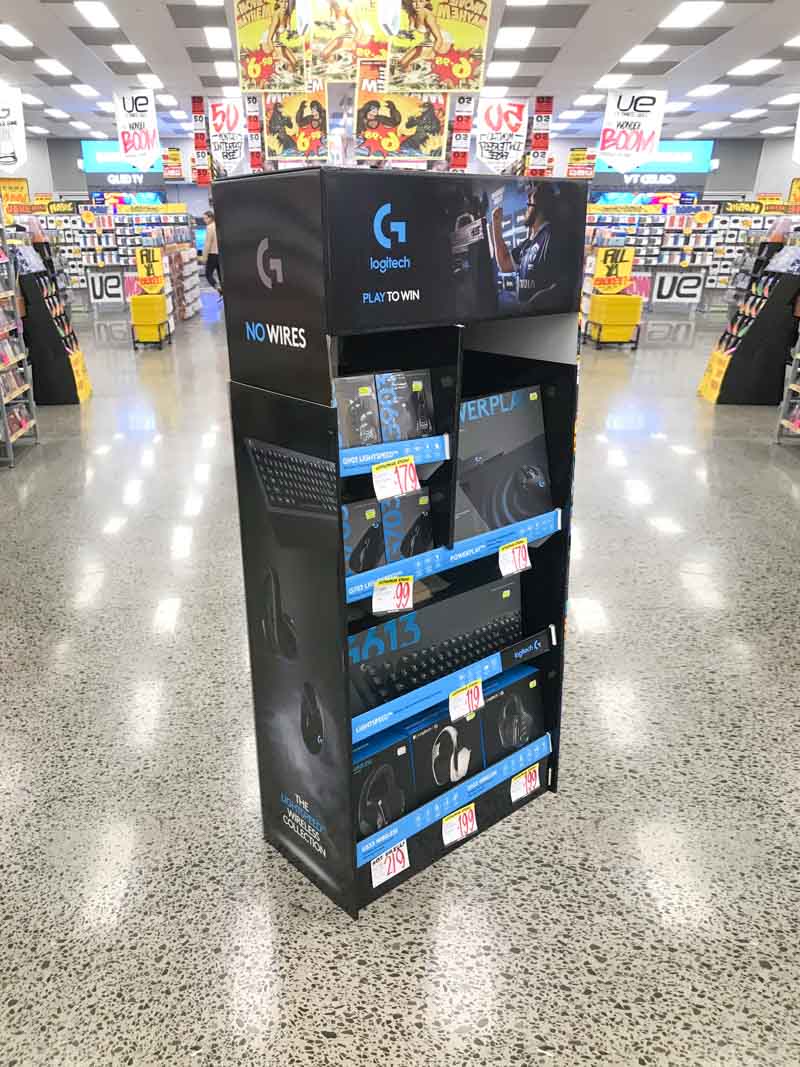 Cardboard product display stands that are pre-packed
Custom designed cardboard display stands that save time & money.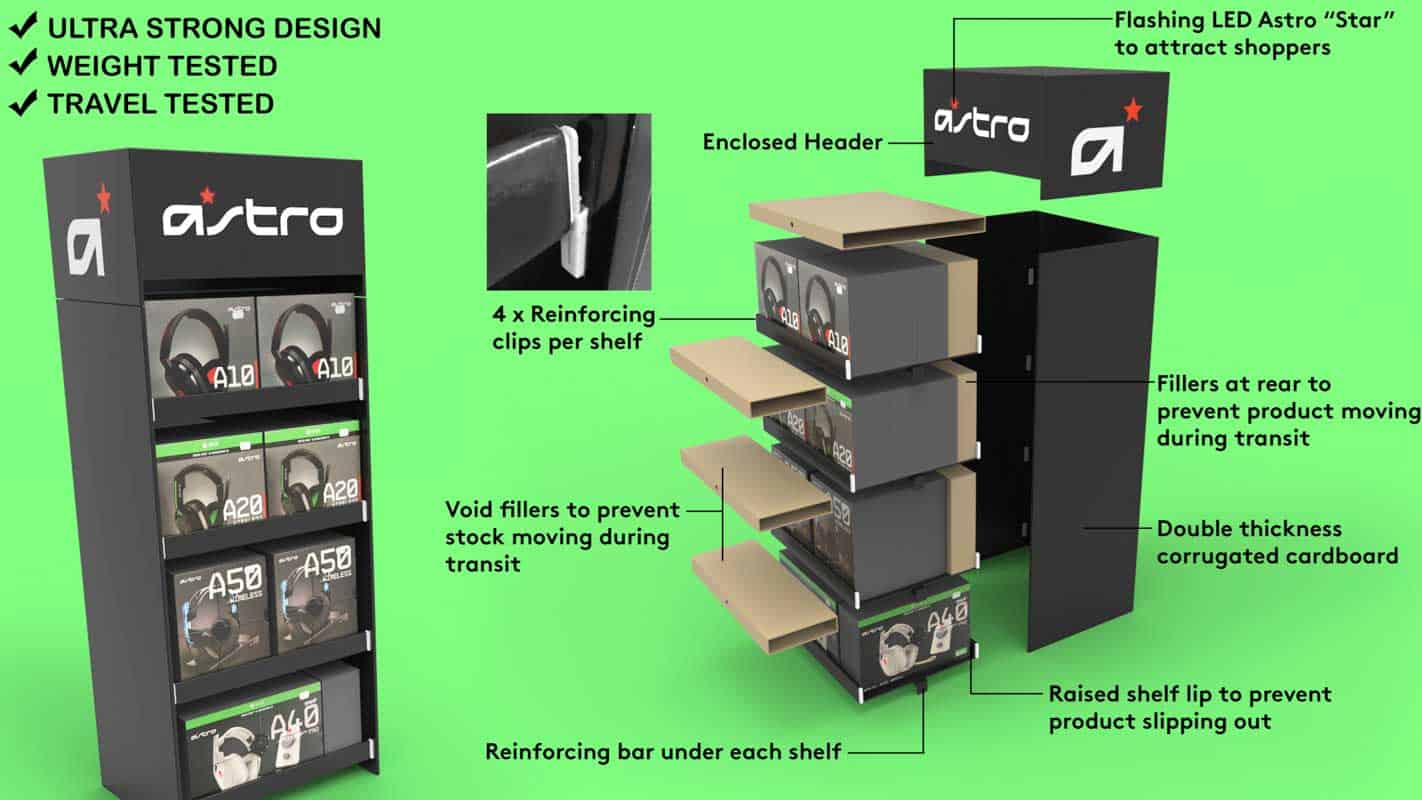 How to simplify point of sale display logistics. Pre-packed POS displays are an effective way to simplify logistics and ensure planogram compliance at retail. Anyone who has tried to marry up arrival of POS displays with arrival of products and merchandising teams know that this can be a challenge. Pre-packs remove many of the moving logistic parts on execution. A display arriving with the product already in it makes implementation for retail store staff super easy, maximizing the time in-store for your campaign. Pre-packs are a serious undertaking from a cardboard engineering point of view to provide reliable location of the products throughout long and robust transport journeys. This requires experience and rigorous testing in the design phase, all of which we can take care of for you. In this example we built in an application education panel to help shoppers buy. Logitech approached us to create cardboard product display stands that could be assembled in retail stores to showcase their range in off location placements or promotional areas. Although from our extensive experience helping to distribute and install point of sale displays we know that getting cardboard merchandising displays executed correctly is a huge challenge. In many cases the retail store staff don't have the time needed to build a 
cardboard pos display stand and normally it is too hard for them to understand. What some brands will do is hire merchandisers to go out to stores and build the 
point of sale cardboard display stands which adds extreme costs to any execution as well as time.
What we showed Logitech was a different approach to getting cardboard display units installed quickly and efficiently (like the Astro example above). Genesis Retail Displays can custom design cardboard displays that are pre-packed with products so that when they arrive in store the only thing that needs to be done is pull the display out of the shipper unit. Our team designs everything from the cardboard display to the actual shipper unit to make sure nothing is damaged in transit.
CARDBOARD PRODUCT DISPLAY STANDS THAT ARE FAST TO SET UP IN RETAIL
We have been creating pre-packed cardboard display stands for many years for products like video games, dvd movies, health products & other items sold in retail. Cardboard display stands are used in Australia by all the major retailers and they are the fastest, most efficient way to display products quickly.
The hidden cost when working out your budget to implement this visual merchandising solution is the set up and installation costs. This is where Genesis Retail Displays is a pos manufacturing specialist that can save thousands of dollars in logistics, money and time being spent to execute product displays around Australia.
Our design team can craft a bespoke point of sale solution that suits your product from the shape, weight and size to make sure it can easily fit the display and help your brand stand out in store. Our services can then help with pre-packing the display units that are then distributed into retail stores ready to go on display quickly.
Taking this approach is the most cost effective way to get cardboard free standing display units into retail shops.
CARDBOARD SHIPPERS FOR CONSUMER PRODUCTS
Pre-packed cardboard displays for all product types.


 
Cardboard shipper display units for all retailer types.
Custom designed to suit your product & brand.
Genesis Retail Displays is a specialist pos manufacturer based in Sydney that has in-house design capabilities. We can come up with the initial concepts, prototypes all the way to manufacturing and distribution to get your product displayed in retail quickly. Everything is done in-house by our team who has the tools and equipment to create point of sale designs quickly in Sydney.