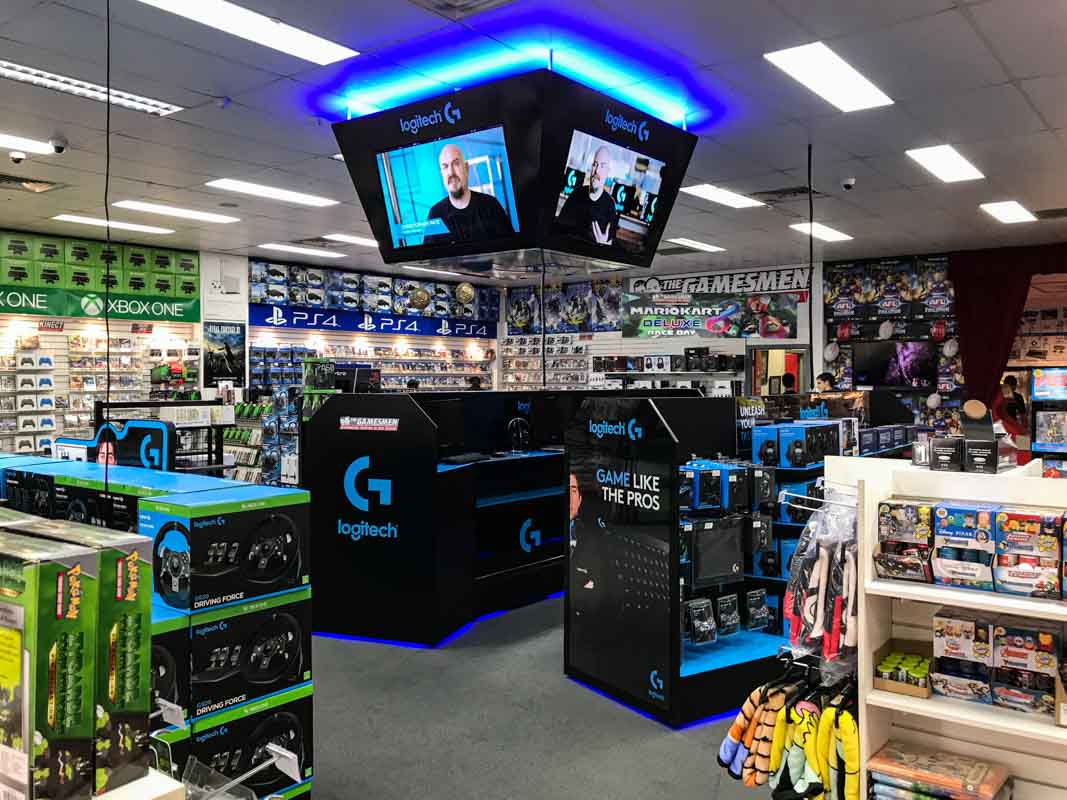 Permanent Displays with impact
Custom design permanent display solution for maximum retail impact.
the PRODUCT DISPLAY problem WE SOLVED
Logitech were looking for ways to display their range of Logitech G gaming products including their updated line up that was specifically designed for eSports which is one of the fastest growing parts of their business.
The challenge they had was that most Electronic Boutique retail outlets used a very small shop footprint that didn't allow for product demonstrations or interactivity. At the same time other gaming peripheral retailers like JB Hi Fi had such tight planogram spaces that the idea of an interactive area would be difficult to deliver.
So we helped Logitech and The Gamesman to develop a permanent display area that was like a 'shop in shop' concept where the brand could be showcased and people could try a range of products. To be practical as well as functional our design needed to ensure it could carry stock, support a planogram display & be easy to replenish or refresh.
HOW DID WE DESIGN THIS PERMANENT DISPLAY?
When we sat down to design this permanent display we focussed on four key areas;
Bulk stock presentation.


Floor to ceiling visuals including lighting and sound.


Mix of hang sell and shelf stock displays.


End cap promotional display areas. 
Using our POS design expertise we knew that this combination would deliver a mix of satisfying practical retailer requirements while also giving the Logitech G brand maximum impact in store. Taking this approach means faster acceptance and sign off by both the retailer and the brand.
All POS Agencies should be asking a range of questions to really understand the requirements of a brief. Take a look at the 10 Questions Every POS Agency Should Ask and download our free POS Brief Guide
WHAT WERE THE RESULTS LIKE?
Well, due to confidentiality we aren't able to divulge the results but needless to say, Logitech were impressed;
"Hi Andrew, I saw the photos of the Gamesman installation. It looks incredible you and your team have out done yourselves. Everyone at Logitech is so impressed so thank you for all your hard work!"
CAN WE DO PERMANENT DISPLAYS FOR OTHER PRODUCTS?
Genesis Retail Displays is an Australia POS Design Agency that can do custom design for all types of permanent point of sale for different brands or industries. We have designed things like free standing display units, cardboard shippers, permanent wooden display fixtures and many other types of pop executions
.
Point of sale displays (POS) or point of purchase (POP) displays are the best way to attract shoppers in busy retail outlets and ultimately encourage them to purchase your product. Doing this in mass merchant retailers like Big W is no exception.
POS can be used on-shelf in retail stores or ideally be free-standing like the examples above.  On-shelf creative POS displays can make your product stand out among your competitors. POP free standing floor displays (FSDU's) can in effect create new space for your product offer when the store displays are already full.
By trying to influence the "last 3 feet" of the path-to-purchase you can increase shopper traffic into people actually buying your product, especially compared to items sitting on a normal shelf planogram. 
As demonstrated in this example, POS displays come in many forms from more simple application such as wobblers, posters and bunting to cardboard counter displays, free standing cardboard displays and pallet displays to semi-permanent displays and even permanent displays.
Taken to the next level Interactive POS displays allow your shopping customer to know what your product is like rather than asking them to guess what the product is like.  Displays that allow shoppers to touch, feel and experience the product provide a much more immersive experience for shoppers and have been shown to double sales.