Top 10 POS Design Questions
The 'must know' elements for successful executions.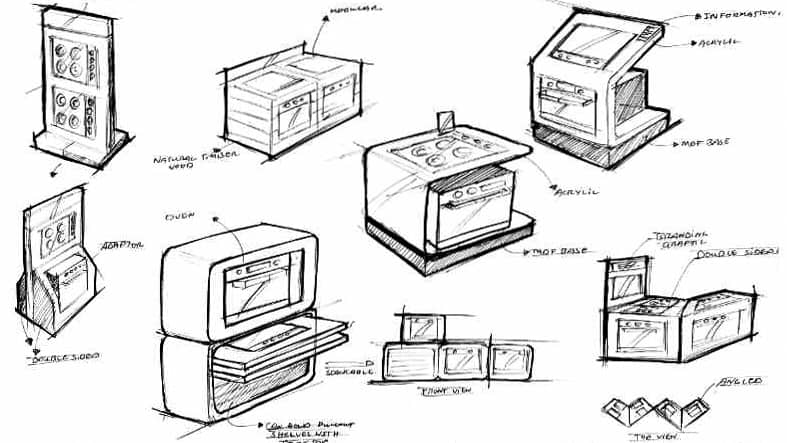 1. WHAT IS THE PURPOSE FOR THE DISPLAY?
We will make the assumption that the purpose for any new retail product display will be for increasing sales but there could be some other context that helps us understand why the investment is being made, for example;
Achieving new product launch awareness?
Increasing retail share of shelf?
Growing market share?
Competing with other brands who have displays already?
Increasing margins or average selling prices through better range upsell & selection information?
The retailer is forcing you to execute product displays.
These are just some of the scenarios we have encountered as a POS Design Agency and all of the answers can lead to different outcomes or solutions provided. That is where our expertise comes into play with a keen ability for our team to solve point of sale display problems that other agencies may not be able to.
2. WHO IS YOUR TARGET SHOPPER?
Many brands don't spend enough time considering their target shopper. They will spend their budget on creating point of sale displays to help complete the task they were given but not really consider who it is for.
We often spend time asking questions like;
What do they think and feel now?


How do they buy this product?


What do we want them to think, feel or do in a retail store?
Initially this may sound a little silly to spend time on this, but exploring this area will help define the type of point of sale execution that will be most suitable for your product & situation. 
A technology rich product may need greater explanation vs a seasonal promotional item or there could be consumer research that highlights an emotional need that needs to be addressed.
3. WHAT STAGE OF THE PROCESS ARE YOU AT?
Knowing what stage you are at for the journey becomes critical so that we can respond accordingly to your brief.
Idea gathering stages?


Trying to secure budget approvals?


Lobbying management internally to invest in POS?


Trying to pitch ideas to retailers?


Ready to produce & roll into retail stores?
We can then work out what level of detail you need to satisfy your immediate goals.
4. HAVE YOU SPOKEN TO THE RETAILER/S?
The answer to this becomes quite pivotal to responding to you with the best possible presentation to help your pitching processes either to internal sales teams, retail buyers or retail operations teams.
We realise that sometimes the process might be to initially come up with some ideas and concepts to then showcase to secure feedback, but it does help if there is a level of interest already available from the retail partner to ensure time is spent effectively.
5. HAS YOUR IDEA BEEN EXECUTED BEFORE?
From the experience we have gained by manufacturing thousands of point of sale display items in Australia we have learnt hundreds of lessons. This can also apply to executions you may have completed before.
Therefore this knowledge can be used to either repeat great experiences or avoid bad ones. There could have been learnings taken from small things like the process of getting displays into stores through to the durability of the materials used.
This should form part of your brief as valuable insights to draw from.
6. WHAT ARE THE PRODUCT SPECIFICS?
Understanding the nuts and bolts relating to the product/s that need to be displayed is of course a fundamental requirement but this conversation needs to extend to things like;
– Product lines
– Variants
– Sizes
– Ideal stock-hold
– Quantity
– Duration in-store
– Location display format
– Timing required
– Current competitor activity
as these elements help us take into consideration many of the factors that will need to be used to design a custom product display to suit your needs.
7. WHO WILL INSTALL THE DISPLAYS?
It might seem like jumping to the topic of installation is well down the list of execution topics, but it becomes important when considering the POS Design in relation to its assembly.
So for example is the idea to have a merchandising team, store retail staff or a specialist retail shop fit out crew assemble the pos?
As you can imagine their levels of expertise, time available and cost will vary greatly, but for a POS Design Agency these things will actually influence the ideas that we come up with.
In some situations a pop up cardboard free standing display will suit and in other cases it will be a permanent wall display with interactive products.
8. HAS A BUDGET BEEN ALLOCATED?
This is the single biggest topic of discussion and debate. The cost of custom design point of sale is much like 'how long is a piece of string'
There is no point coming back with a solution that is created to the level and standard of a Bugatti if the budget available is more suited to a reliable hatchback. a big one. 
For most people we deal with providing a budget creates a lot of anxiety but it helps to set the right expectations from the outset. If you have $5,000 vs $50,000 then we can provide guidance as to what is realistic based on your initial brief.
The POS Design Agency space is very competitive and just like choosing a tradie you can't use price alone as your decision making factor. There is a mix of experience, clever design, being able to understand and satisfy a brief that also becomes important to consider to arrive at a workable solution much faster. 
9. WHAT LEVEL OF INFORMATION IS REQUIRED?
This relates to some of the earlier points but here it becomes important for us to understand what your expectations might be. So for example;
– Do you just need ballpark estimates?
– Are you after a formal, written quote?
– Would you like to see hand sketches or full 3D modelling?
– Would you like a prototype created?
As you can imagine all these various steps require differing levels of work and input from the POS Design Agency perspective in terms of labour and hours required.
10. HOW WILL SUCCESS BE MEASURED?
Being in the industry for as long as we have been, we know that your POS Design Agency has to not only deliver something that looks amazing, but it needs to deliver results.
So one of our fundamental questions we always ask is what does success look like and how will it be measured so that you are able to quantify the results more easily.
This could be a mixture of financial results combined with reducing the resources needed to execute your POS Display Program.
DOWNLOAD OUR FREE POS BRIEFING FORM
Genesis Retail Displays have been doing custom design point of sale for lots of different brands in Australia. We have designed things like free standing display units, cardboard shippers, permanent wooden display fixtures and many other types of pop executions.
Point of sale displays (POS) or point of purchase (POP) displays are the best way to attract shoppers in busy retail outlets and ultimately encourage them to purchase your product. 
We have collated a number of samples and case studies to share some ideas, but you can also download our free POS Briefing Form to help better understand the information required to successfully execute a POS Display Program