Retail point of sale displays for accessories
Custom designed to provide interactivity in retail stores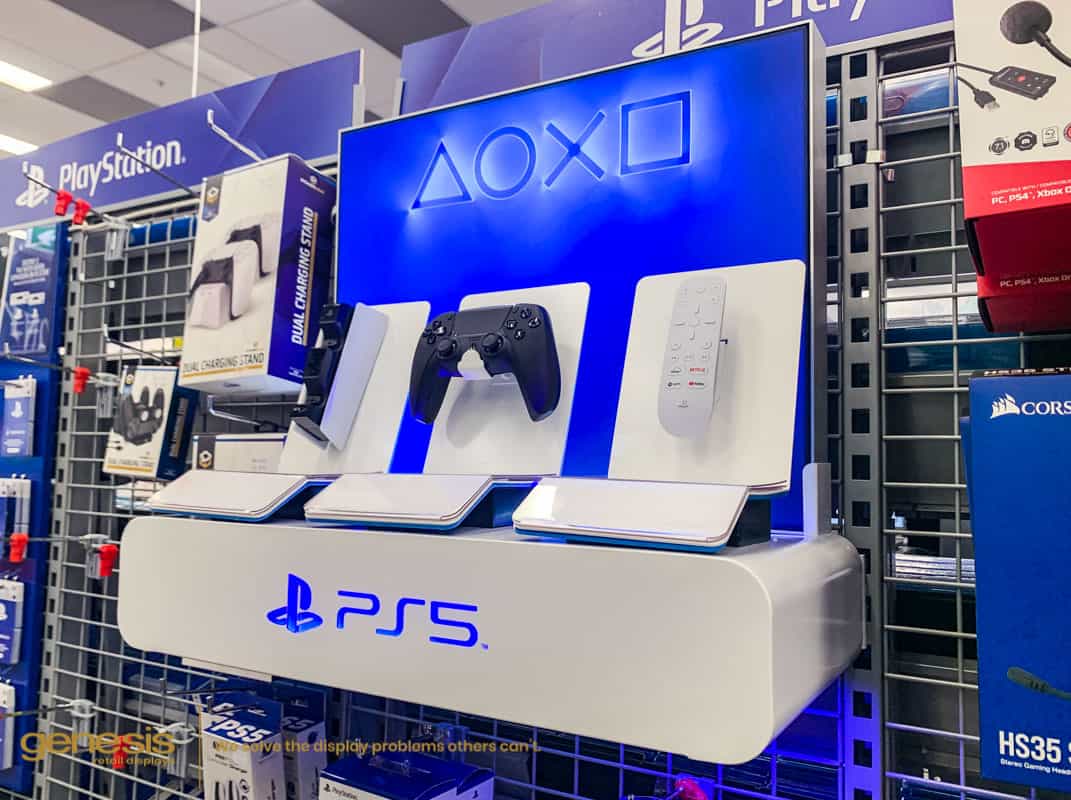 The best way to increase sales of accessories in retail is to have them out of the box and ready for people to hold, touch and feel. This becomes especially important for products that need to be handled by adults or children which have buttons or need to be moved around.
Sony PlayStation entrusted Genesis Retail Displays to design a new product point of sale display for their new PS5 accessory products. This interactive shelf display needed to slot into JB Hi Fi's existing shelving system, have a modular design, lighting as well as space for the retailer's sales tickets & Sony Playstation's product information.
From our experience with similar point of sale display installations in retail, we have seen a 200% increase in sales simply because people can hold the item in their hand compared to just looking at a cardboard box or clamshell packaged item.
People can press the buttons, feel the weight, get a sense of the quality of the device and see it it sits in their hands which can give any brand a distinct advantage to convert shoppers to buyers.
Our point of sale design agency handled the whole project from end to end;
Point of sale design ideas
Concept creation
Prototypes builds
Retail store test fitting,
Engineering
Manufacturing,
Distribution and installation.
Getting visibility in JB Hi Fi retail stores
All of the leading global brands selling products in JB Hi FI know what an incredibly dynamic and energetic environment this retailer's stores are. There is so much competition for attention in their stores, with incredible calls to action every step you take on end caps, aisle ends, bulk stacks or in feature areas.
The most experienced brand and product managers will take this into consideration during the point of sale display design briefing process. It becomes part of the budget consideration and has to be factored into any design ideas to make sure that any installation will stand out and draw attention. Fortunately the team at Sony Playstation have dealt with lots of different shopping environments so they knew immediately what needed to be done.
In JB Hi Fi retail stores there is a dedicated aisle for Sony Playstation products, but the team wanted to make sure these new PS5 accessories stood out. So part of the design concept we created for this point of sale display shelf was to include LED lighting to create a beacon to draw shoppers towards the unit and away from competitors. We also used back-lit fabric headers to produce a very premium look with a borderless image presented.
Point of sale display manufacturing in Australia
This point of sale display execution was carried out during very challenging times where overseas production & international delivery was quite erratic. While the initial plan was to use our large scale volume facilities in China we had to make changes to accommodate the lead time requirements. This meant working locally to manufacture, distribute & install these display units.
One of the unique services Genesis Retail Displays offers in Australia when brands are creating new point of sale displays with us is to create a physical prototype to allow you to 'look and feel' a design idea in the flesh before it goes into production. This is a crucial step compared to making approvals from 3D renders or images.
Working with a prototype can create the opportunity to do 'real world' testing where you can interact with a display with the products to see how it will work, its scale and how it looks from all angles. We also do a test fit in the store to make sure everything works as expected and fine-tune any finishes or items that require refinement.
What design ideas did we put into this point of sale display unit?
Most brands that sell hardware, will nearly always have a range of accessories that are used with the main device. Apart from adding functionality, it is an important element in delivering a sustainable business model based on the profitability of accessories. This is also important for retailers as these items can create repeat purchases and generate foot traffic. 
The key then is to maximise the attach rate of hardware vs accessories. While some of this will be done during the sales process with a store staff member, a lot of the time a shopper will make their own purchasing decisions. This is where a strong, impactful point of sale display becomes crucial to draw attention, create interest & entice a shopper to look at the range available.
In Sony Playstation's case they invested to have an interactive display which is the killer secret to achieving high conversion rates. The more people that can touch and feel a device, the more sales you will make. Just think about all the leading brands in the world, they have places you can experience their products. Sony Playstation is no exception.
So while some brand managers or trade marketing managers may shy away from investing large budgets into retail product point of sale displays, the leading brands know just how much it can impact revenue & profit growth.
For this design not only is it interactive but it is semi-permanent, meaning it will be in the JB Hi Fi retail stores for months on end, paying for itself over time very quickly. Instead of rolling out multiple cardboard shipper displays, PDQ's or other short term point of sale solutions, Sony Playstation made the decision to invest in something that would improve brand presentation, educate consumers & focus on converting more shoppers into buyers.
So during our design process we took these elements into consideration;
How could the display fit into the existing JB Hi Fi shelving units.
What materials would suit long term, high traffic use.
A design that could include lighting to add impact in the aisle.
Shapes and spaces that would enable interactive use of the accessories, space for brand product information and JB Hi Fi sales tickets.
A modular design that could be scaled if required to larger aisle bays.
A design that could be plannogrammed into a full shelf bay of product.
In-store distribution packaging to minimise damage to the units while in transit.
Soft edges that would be safe for children to use.
Can a shelf display for products be turned into a brand block?
One of the huge benefits of getting custom made point of sale displays manufactured in Australia is that you begin with a blank sheet of paper to come up with ideas that solve any problem you may have displaying your product.
Perhaps you want to

display user-generated

social media content?
You may require it to be on wheels or even made out of metal to be durable while being mobile.
There are so many scenarios that we deal with every week from short term requirements to large scale national roll outs. Custom design means we can work from a blank sheet of paper and solve a scenario quickly by creating something specific to your brand or product.
For this project one of the ideas that was explored was an aisle bay that incorporated a shelf display. The thinking was to present a range of accessories suitable for a new game release or in the category bay to ensure that Sony Playstation's brand presentation stood out.
In the examples above you can see how different ideas can be adapted to suit a space in retail or a particular promotional activity. Lighting, different surfaces, creating brand blocks – these are just some of the things possible for retail product displays that we can create.
What is the benefit of going to this level of effort?
If you are a product manager, brand manager or trade marketing manager you can use custom made point of sale displays as a great tool for promotional campaigns, product launches or to help your sales team win market share from your competitors.
Imagine arming your sales team with a pitch deck that is full of ideas to improve accessory attach rates by securing retail shelf space for a long period of time. That is the power of working with a pos design agency like Genesis Retail Displays.
How we managed all the distribution logistics for this POS Display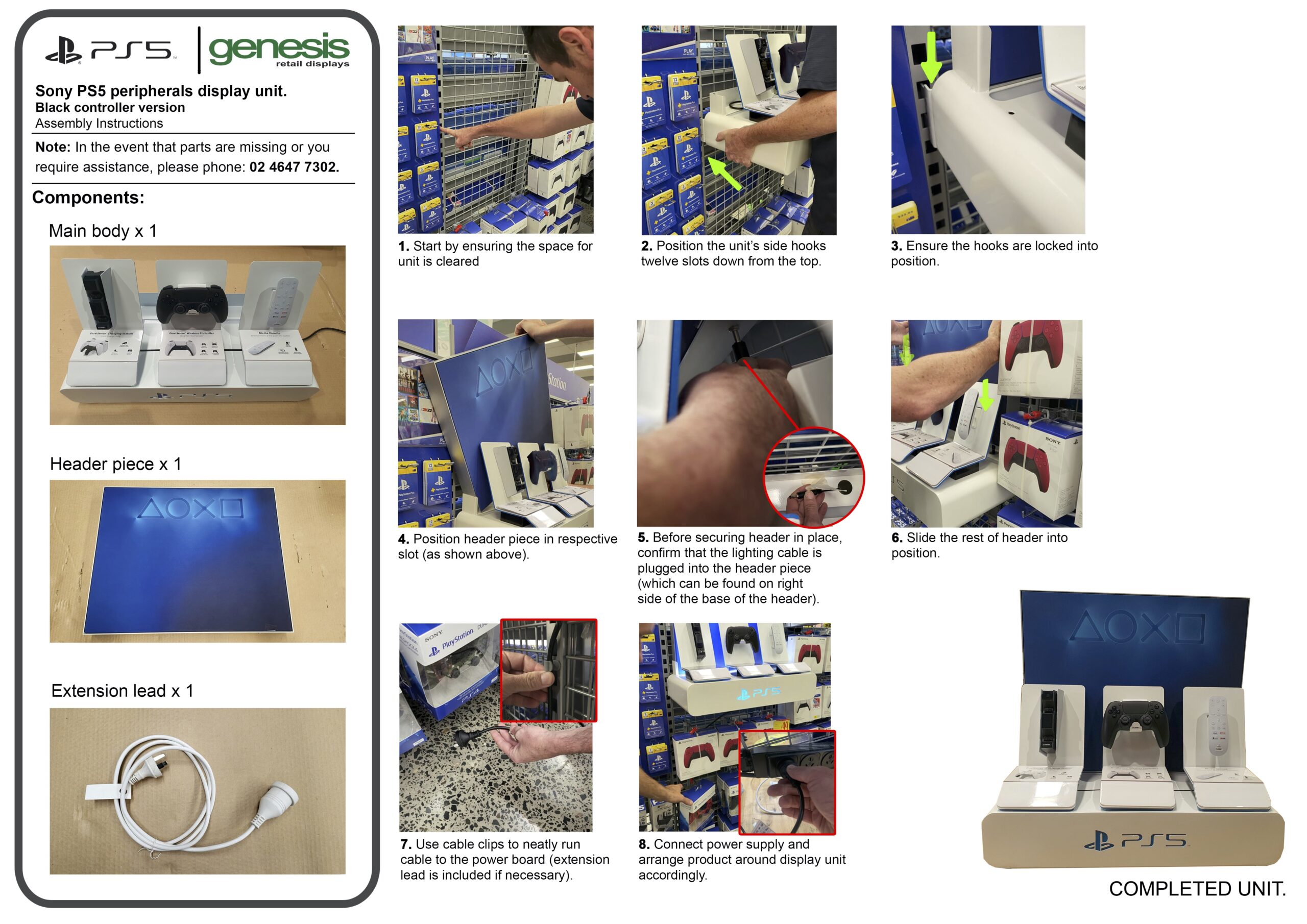 Genesis Retail Displays not only designs retail point of sale displays, but we have the expertise to create customised packaging to make sure your displays arrive in store without damage, the creation of instructions to set up the displays & able to help with the logistics to co-ordinate delivery or installation.
It means you don't have to worry about a thing, we take care of these aspects for you. We have lots of experience coordinating national distribution rollouts of point of sale displays including installation where you are kept up to date with weekly progress reporting. It takes the pressure of internal staff to try and manage these types of projects.
Point of sale display distribution can include things like;
Transport booking
Pre-delivery advice
Consignment notes
Tracking
Reporting
We can also help with installation management by partnering with specialist services. This can ensure the work is done in a timely manner with great communication and completion reports with photos. Invariably there are "niggles" at store level which can be quickly sorted but we can help provide;
Coordination of merchandising team
Scope of work briefs
Troubleshooting
Managing store non-compliance
For each project we can help you decide which specialist service might be the best fit, co-ordinate with them etc to ensure that your point of sale display distribution isn't just 'managed', it is proactively driven to completion. This is what sets Genesis Retail Displays apart from other point of sale display manufacturers in Australia.
Want some inspiration, check out our idea gallery