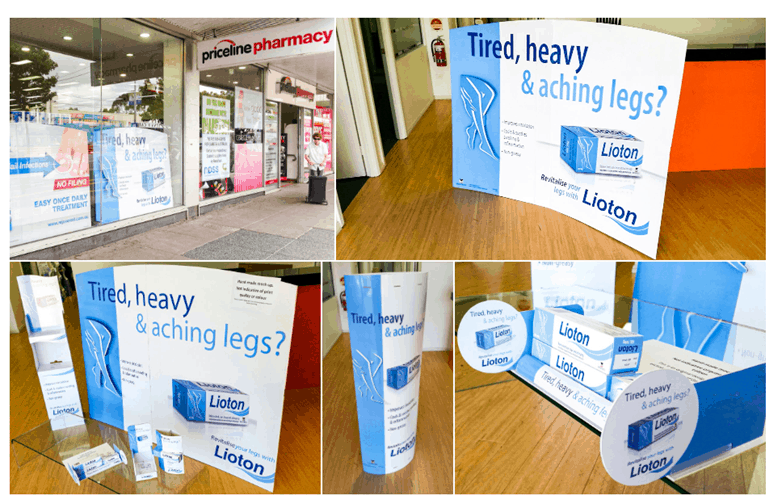 Product Point of Sale Displays In Pharmacy Retail Stores
Retail point of purchase displays can be custom designed for any shop size
IS YOUR PHARMACY READY FOR VACCINE PATIENTS?
The Pharmaceutical Society of Australia has helped community based pharmacy locations to gear up for the Australian vaccine rollout for COVID-19. The initial batch of vaccinations came after approximately seven hundred pharmacists attended a Pharmaceutical Society of Australia led webinar in preparation for their involvement in Phase 1 and 2 of the vaccine rollout across the country.
The webinar had senior government officials leading the COVID-19 vaccination plan join A/Prof Freeman to cover the required training and state-by-state implementation & any questions around the requirements to administer COVID-19 vaccines.
A/Prof Freeman said the response to the webinar had shown the high levels of interest and support for the COVID-19 vaccine rollout among pharmacists. 'It is fantastic to see the level of support from our members,' he said.
'Pharmacists are well placed to assist in this program and the attendance at PSA's webinar clearly demonstrates the commitment of our members and desire to ensure we understand the protocols and get the right training to deliver these vaccines safely.'
PSA National President Associate Professor Chris Freeman said administering the first vaccines represented a 'momentous day' for the nation and marked the beginning of Australia's exit from the pandemic. 'Australia's health response to the pandemic has been led by expert scientific health advice, and our national COVID-19 vaccination strategy is no different,' he said. 'All Australians can have confidence in the safety and effectiveness of approved COVID-19 vaccines, which will be administered by competent, well-trained vaccinators, including pharmacists.'
how can a pharmacy brand benefit from the vaccine programme with product point of sale?
The rapid ramp-up of the national COVID vaccine programme will inevitably increase the foot traffic of patients and shoppers for all pharmacy retail stores across the country. This is a significant opportunity for pharmacies and brands to reach out to regular pharmacy shoppers and just as importantly, people who would not be the primary family pharmacy shopper, a person that would rarely step foot inside a pharmacy.
The increased store dwell-time created by people waiting & also the required monitoring time after administering the vaccines is an additional opportunity to engage, educate and influence shoppers.
Thinking about your shopping experience is really important for pharmacy owners & the brands they support so that you can ensure there is a range of point of sale product displays (POS) located in the right locations around your store. This can help create multiple touch points to engage shoppers with products throughout their visit to a pharmacy.
For retailers like Chemist Warehouse or Priceline Pharmacy their planogrammed store trade marketing execution will most likely organise many of these elements centrally. Therefore it becomes important for independant pharmacy store owners or banner brands to ensure they are seeking the required support they need to compete with the larger retail chains.
Genesis Retail Displays is a point of sale display design agency based in Sydney that has been helping a wide array of brands to create and manufacture point of sale displays for pharmacy retail stores. One of the very first things we do during the briefing process is to try and understand the typical customer flow for the pharmacy retail stores that the pos will be used for.
A point of sale design brief might start with the idea of a cardboard product display stand, but once we explore where and how the product is sold we can better understand the typical customer journey and come up with some additional point of sale display ideas that can help the brand win more exposure across different parts of a shop.
Maximising how many times a shopper can see a brand or a product in retail is is something that every brand must master if they want to grow sales & make their point of sale investment pay off. Once customers are already in a pharmacy store you want them to see, interact & buy your products. Most pharmacy retail stores are quite small so it means getting quite clever with placement of the point of sale.
This is where our pos design expertise comes in because we can custom make all types of pop materials to suit different spaces or surfaces in a retail store. Over the years we have already put point of sale into retailers like Priceline Pharmacy, Chemist Warehouse, Soul Pattinson and others.
By improving your effectiveness at getting customers attention in the store, you can increase your potential sales with point of purchase displays that  easily improve your brand's performance at retail relative to your competition.
WHY ARE PHARMACY POINT OF SALE DISPLAYS SO IMPORTANT?
There are many traits that are similar between a pharmacy retail store and petrol service station when it comes to the shopper behaviour. There is a very high percentage of shoppers who simply want to get in and get out as quickly as possible, providing very little chance for impulse purchases. So when it comes to a pharmacy retail store point of sale displays become quite critical to capture attention as people visit from the front of the store to the OTC area at the rear.
What are the advantages of POP displays over regular shelving?
Shoppers in pharmacy environments will be 'skimming' the aisles because they are typically very busy navigating product categories and brands. Pharmacy shelves are very densely packed with a vast range of products often in small packs. So packaging alone, no matter how visually appealing can often be too small to make an impact on a customer without some help. That's where using point of sale materials for the shelf edge, bay or gondola aisle plays a part. Using mediums such as a cardboard display or hanging shelf sign can accompany your product to increase the chance someone will notice it.
Free-standing floor displays generate the best returns on investment given they offer a larger graphic area and increased stock-hold.  These should be designed with a compact foot-print to still allow for good shopper movement through the store.
Another advantage of free-standing floor displays is that they allow pharmacies to "grow" their store and sales beyond the limitations of permanent shelf fixtures.  In most cases brands with make the investment in the display so there is minimal if any cost to pharmacy owners.
Where should product point of sale displays be located?
It is important to consider how shoppers will 'flow' around your store, so there is no point trying to fill every available piece of floor space with stock or displays. Walk into any large retailer to get free advice on the best way to present your store – the simplest technique is making it easy for people to navigate your aisles, good lighting and plenty of space for prams or trolleys.
Common display formats include window displays, security tower covers, free-standing floor displays, permanent wall bay displays, counter displays, shelf displays, signage and even interactive displays which can be placed in lots of locations around a pharmacy store quite easily.
Standard ranges of POS displays such as dump-bins, shelved floor displays and counter displays are available, as are custom designs to suit the unique requirements of each product kind and brand. All weights of products can be accommodated by POS displays given the right advice and testing procedures. Cardboard floor displays can hold as much as 20Kg per shelf for example.
How long does it take to create custom designed point of sale?
After an initial design phase, production lead-times range from 3 weeks produced locally, to 8 weeks produced in Asia.
BENEFITS OF EFFECTIVE POINT OF SALE DISPLAYS IN PHARMACY RETAIL STORES
Every pharmacy store owner should be thinking about how to convert every visiting shopper in what is called the 'last 3 feet of the sale' – think about it, you have someone in your store, so that is your chance to create a transaction which well designed point of sale, store layout & customer service can help with.
Working with a point of sale design agency creates a lot of benefits because everything is custom made to suit your brand and specific product (or product range) So it means you are creating the most effective point of purchase displays possible to help both retailers and shoppers buy more of your brand. Point of purchase displays have been shown to increase sales at retail by more than 100% depending on the execution. 
1. Catch a shopper's attention
This is probably the most obvious thing, but shoppers in pharmacy environments will be 'skimming' the aisles because they are typically very busy, full & with lots of small products filling the shelves. Chemist Warehouse is like the JB Hi Fi of pharmacy and packs their stores from floor to roof with an incredible product range. So packaging alone, no matter how visually appealing can often be too small to make an impact on a customer without some help. That's where using point of sale materials for the shelf edge, bay or gondola aisle plays a part. Using mediums such as a cardboard display or hanging shelf sign can accompany your product to increase the chance someone will notice it.
2. Compliment your product packaging
Most products sold in pharmacy are tablets, creams, perfumes or vitamins that come in typically small product packaging. So even though you might have a great product the physical space you have available to communicate all your features and benefits is quite limiting. So point of sale displays can help solve this problem by creating more space to educate shoppers about the unique value that your product offers. This can be done with a cardboard freestanding display unit, brochure holder or countertop display unit.
3. Win strategic placement of your products
Point of purchase displays are often free-standing or can fit onto the ends of shelves. This gives both you and the retailer flexibility as to where (or how many places) your product can be placed. You can avoid being squashed into the category shelf area and start securing off location display space that is incremental. This also increases your buy in quantities. Plus it will mean your products can go into high traffic areas within the store or next to complementary products.
4. Help retailers get product merchandising right
A common struggle for brands is ensuring that their products are merchandised effectively at retail. This is limited by how well the retail staff understands basic retailing principles or what time they have to keep a store tidy. By providing a point of display materials for your product, you are able to better control how your product or brand is presented. It can also be attractive for the retailers as they don't need to invest in items to be placed in their stores or they might charge you for the rental of the space. 
5. Spend your marketing budget more effectively
TV, radio or print advertising is traditionally expensive and has vast amounts of wastage. Even more traditional digital marketing can be poor at getting the right shopper if not done well. So working your marketing budget around the last 3 feet of a sale and where shoppers are becomes a more cost effective solution. All the same messages can be conveyed in store as you would online or via other mediums. Better yet you are focussing on converting the people who are ready to buy.
6.Impulse purchases
It's much easier to entice customers to buy your product if they are already in a store with the purpose of buying something. If shoppers are already making a purchase, there's a better chance they'll add something new onto it. Large numbers of purchases are often unplanned, especially in the pharmacy, grocery and beverage industry. That is why where is always so many items placed in different locations of a store and it is why effective point of sale is so important in pharmacy stores.
examples of pharmacy multi location POS displays
We did some work with Lioton which began with a discussion about a cardboard shipper display for their cream product. Although the discussion soon turned to other point of sale ideas that resulted in;


– Window display

– Security gate cover display materials

– Checkout counter PDQ display

– Countertop shelf display

– Aisle end cardboard display stands


Using our design agency expertise meant that our team could come up with a range of options created in-house that are manufactured in Australia and distributed to hundreds of retail stores.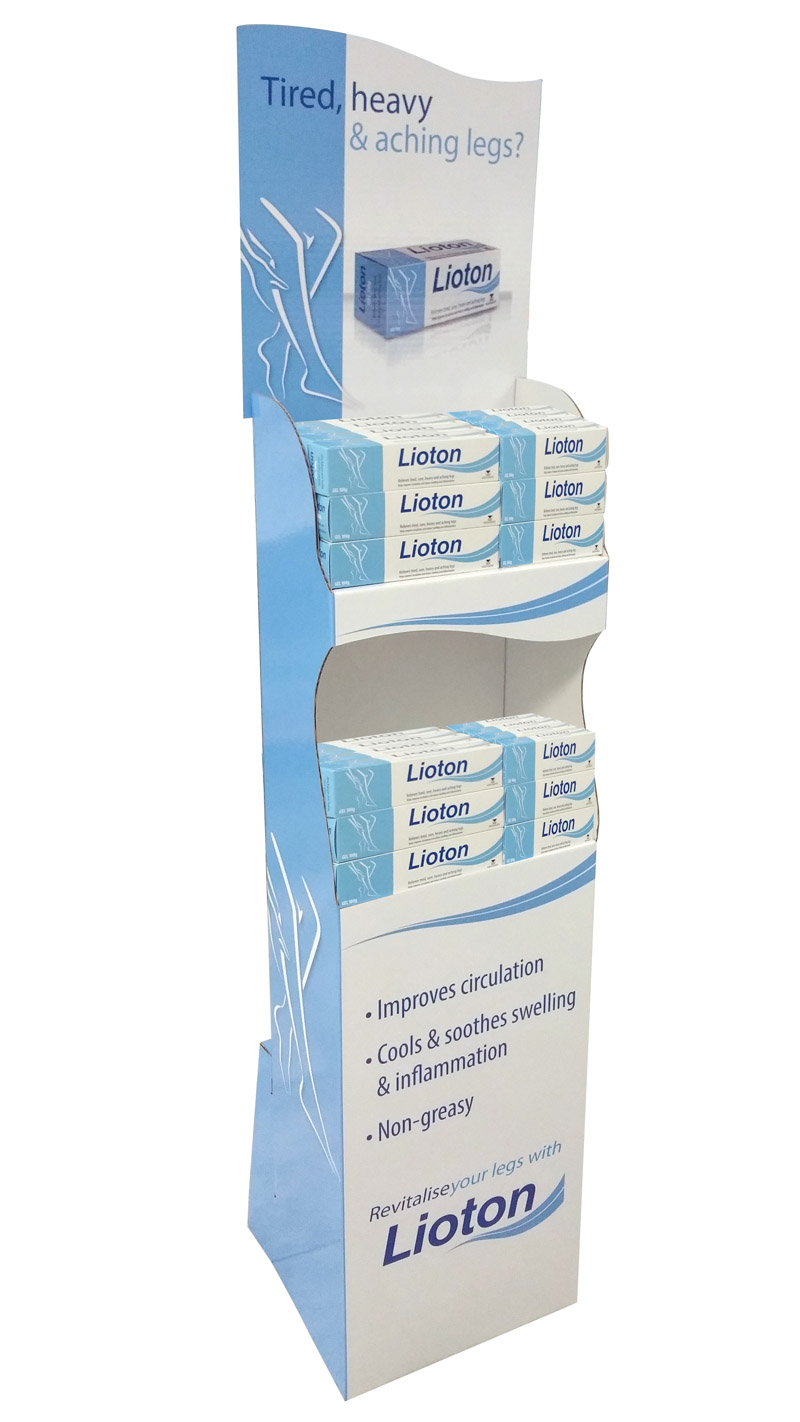 So the discussion with Lioton in this example turned into a multi touch point POS Display execution with the goal of engaging pharmacy retail store visitors at different locations around the shop floor. 
We worked with their marketing team to get an overview of their brand story and corporate identity guidelines to set about creating some clever point of sale display ideas that included shelf pos kits, floor stands, lamas and window signage.
We experimented with different shapes and produced prototype samples so that Lioton could see how the form and function would work with their products before production was approved. We then provided full-size artwork proofs to ensure all print expectations were met ahead of starting final production. 
Many POS designers might skip this step which can lead to dissatisfaction with the end result as the artwork, materials or colours aren't tested properly. We do have many clients who like to skip this step but for us a hard copy proof is not negotiable to ensure we can maintain our high quality pos design and manufacturing standards. 
Over the years we have picked up hundreds of errors that have saved thousands in reproduction costs.
other examples of pharmacy point of sale displays
Genesis Retail Displays have been created custom made point of sale displays Australia including Advil, Philips, Pine O Cleen, Elastoplast, Coloxyl and other pharmacy brands. Our team was chosen by these global brands as their point of sale design agency to create things like;
– Free standing product display stands
 and many other types of pop executions in small, medium or large format retail stores.
WHAT POINT OF SALE DISPLAY BEST SUITS A pharmacy
Point of sale displays (POS) or point of purchase (POP) displays are the best way to attract shoppers in busy retail outlets and ultimately encourage them to purchase your product. Doing this in pharmacy retailers like Chemist Warehouse, Priceline, Amcal or Terry White Chemmart is no exception.
POS can be used on-shelf in retail stores or ideally be free-standing like the examples above.  On-shelf creative POS displays can make your product stand out among your competitors. POP free standing floor displays (FSDU's) can in effect create new space for your product offer when the store displays are already full.
By trying to influence the "last 3 feet" of the path-to-purchase you can increase shopper traffic into people actually buying your product, especially compared to items sitting on a normal shelf planogram. 
As demonstrated in this example, POS displays come in many forms from more simple application such as wobblers, posters and bunting to cardboard counter displays, free standing cardboard displays and pallet displays to semi-permanent displays and even permanent displays.
Taken to the next level Interactive POS displays allow your shopping customer to know what your product is like rather than asking them to guess what the product is like.  Displays that allow shoppers to touch, feel and experience the product provide a much more immersive experience for shoppers and have been shown to double sales.
frequently asked questions
Where are point of sale displays located?
Quite literally point of sale displays can be located wherever there is a physical space available in a retail store. A pharmacy is typically a small format floorplan but even in a shop that is small there are placed to custom design point of sale displays to suit the shopping environment.
How do retail stores display products?
In most cases retail stores will display products on their store fixtures that are planogrammed by a retail planning team or merchandising analyst. So most products will sit on a shelf or a hook in fixed locations. So a retail point of sale display can be an extra piece that is created to be used in off location areas in other parts of the store.
What are point of purchase displays?
A common misconception is that point of purchase refers only to the space within the store where the transfer of money for the goods occurs, such as the checkout. Although really, point of purchase can be broader than this and be considered the whole shopping environment.
The actual checkout area is usually referred to as the "point of sale," because it is at this point that the buyer has given over their money and completed the sale. The terms get used interchangeably, but think of point of sale as a more narrow way to look at point of purchase.
By these definitions, point of purchase marketing can be understood as whatever marketing or merchandising materials your brand provides to its retailers in order to help sales of your product in the store, or whatever materials you include with your product to accompany it where it is displayed.
What is the function of POP display in retailing today?
Even though global online sales continue to grow at a rapid rate, the majority of consumer purchases are still made in retail stores. Therefore a point of purchase, or POP, display still plays a crucial role for any brand to convert shoppers into buyers of their product.
Do displays increase sales?
We have seen many examples where point of sale product displays have increased sales, take a look at some of our case studies like the one from Ultimate Ears as proof.
Why are displays important in stores?
Point of sale displays are very important in stores as they can influence the last '3 feet' of the sale where shoppers make their final buying decisions. So a well designed and executed point of sale display can make the difference between gaining or losing shoppers.