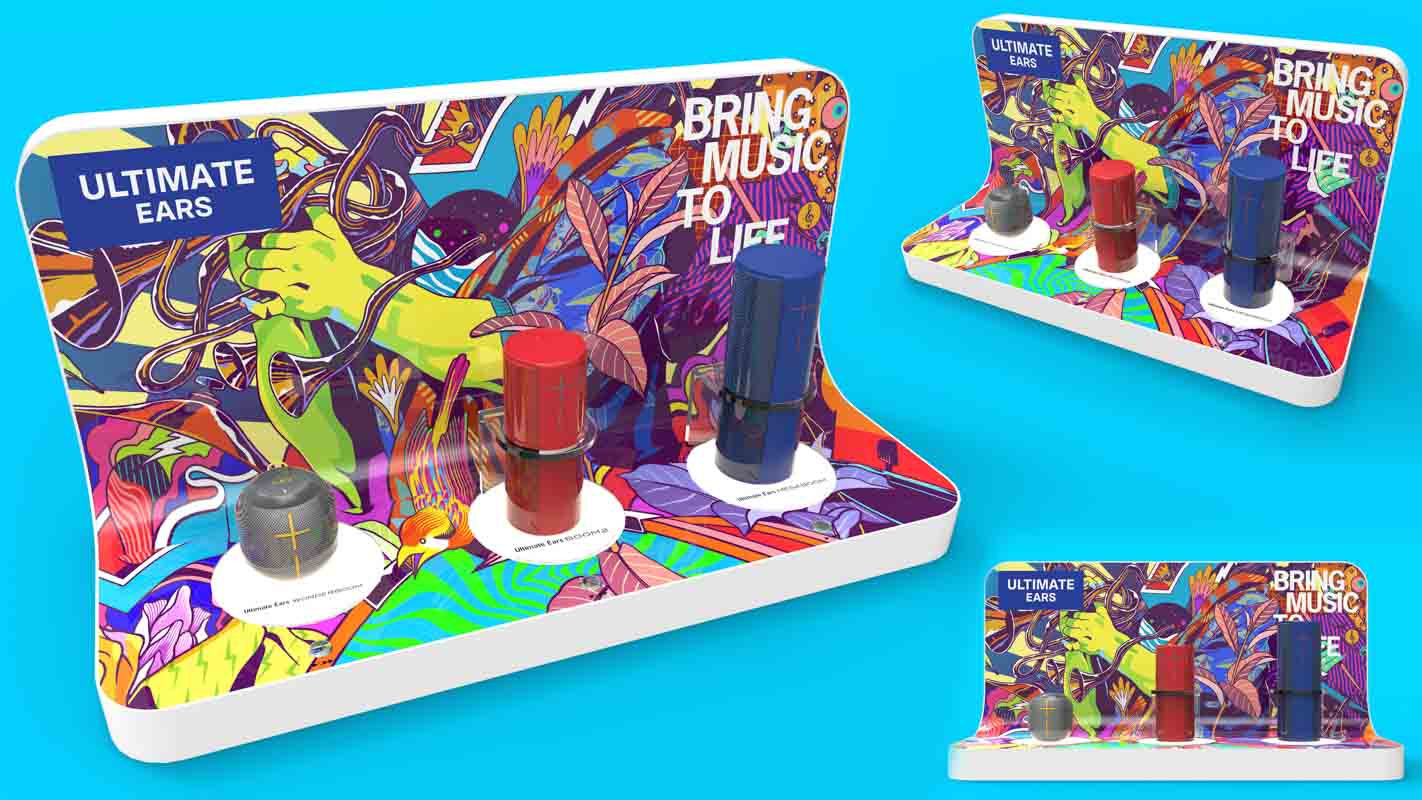 Interactive Product Display custom designed for Ultimate Ears
Custom point of sale that lead to a market leading position
Ultimate Ears had been around for a number of years with a focus on the commercial industry sectors. When Logitech bought the brand their intention was to elevate their product range in the bluetooth speaker and headphone market as the sales of iPod Docks began to dwindle around the world.
As a challenger brand they needed to secure retail shelf space quickly and let people listen, interact, touch and feel their products to try and gain market share quickly through sales growth.
So their brief was to create a modular interactive display that could be rolled out to retailers such as Dick Smith, Harvey Norman, JB Hi Fi and other electrical goods retailers which meant handing different  product types and various dimensions to suit each planogram.
HOW WE DELIVERED THIS DISPLAY SOLUTION
Phase 1
In the first phase there were just two products to be featured and placed on permanent shelf displays that could play audio and also let shoppers plug their mobile phone in via a 3.5mm cable so they could play their music. 
Phase 2
Logitech then made the decision to brand the products solely as Ultimate Ears and with combined this with the launch of the UE BOOM & UE MEGABOOM portable bluetooth speakers. With the learnings taken from Phase 1 the priority was on simplifying shopper interaction by incorporating music and video into the displays so that someone could walk up and press a button to hear the speakers. 
For this execution we made sure the products were fixed in place to reduce theft while also being lit to attract even more attention on the retail shelf display areas. 
Phase 3
Momentum had been created with over 200 displays in retail and Ultimate Ears quickly growing sales and market share. The interactive displays were delivering incredible results & were extremely reliable so Ultimate Ears came to Genesis Retail Displays to create another version of the successful unit.
Phase 3 saw a change to the industrial design to be simpler, cleaner and helping the product to be the hero of the display while still focussing on the audio and video interactivity. We designed these as modular pieces that could enable 1, 2 or 3 speakers to be displayed so that Ultimate Ears could get placement in smaller retail stores as well as resellers.
Very quickly you would see Ultimate Ears bluetooth speakers on display in all major retailers in Sydney.
A pilot program test for different displays.
Huge increases in retail share of shelf in all major retailers.
Market share from less than 10% to 20%+
The results speak for themselves, the brand successfully made an impact on this new market segment in a short period of time. Their activities were combined with Public Relations and Influencer Product Reviews to create a groundswell of awareness and the ability for people to listen to the products easily.
It meant that in all major retailers someone could touch, feel and listen to Ultimate Ears bluetooth speakers vs all the other brands that were sitting mainly on the shelf as a static display or in their retail boxes.
The momentum Ultimate Ears built up meant that it was difficult for other brands to replicate quickly.
A great review from Ultimate Ears about our custom point of sale design