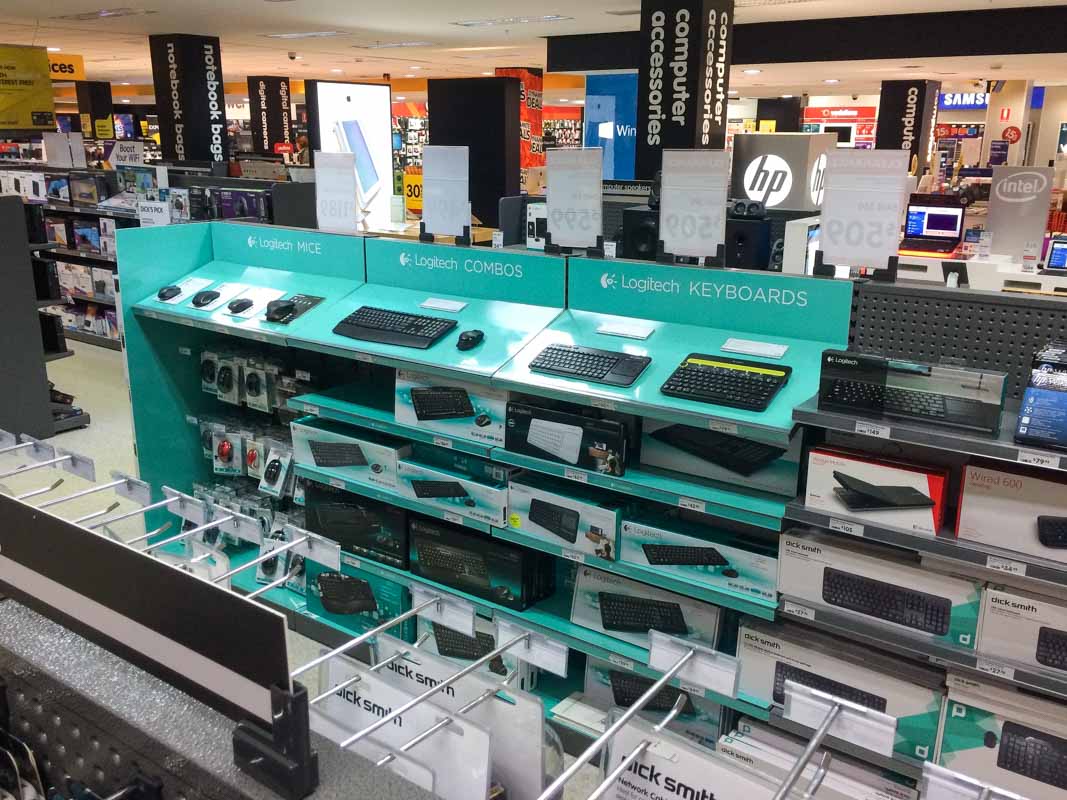 Brand blocking POS to increase sales in retail stores
Brand blocking merchandising is one of the easiest ways to increase sales.
the IDEA behind brand blocking POINT OF SALE DISPLAYS
Brand blocking isn't really a new idea or unique concept as it has been used by brands for many years. Generally the retailers won't give up their existing shelf space to enable a brand to dominate the space available in their stores or a category. 
Although in some cases;
The brand is a leader in the category.
The product range is new to market.
There is a trend for the product's feature set.
There is significant financial upside for the retailer to provide the space, typically in the form extra rebates, marketing funds or advertising fees.
This type of execution is sometimes called shelf blocking, a block display, brand display or brand blocking merchandising. No matter the term, the basic idea & concept is very similar – increase your share of shelf to convert more shoppers to buying your range of products.
why is brand blocking PRODUCT POINT OF SALE SO effective?
Retail can be simple – stand out and you can win. These days a lot of shoppers are undecided about what they are going to buy, so the last three feet of the sale is influenced by the point of sale they see in store. So if your packaging is a little dull or the category is super crowded, then most people will gravitate to the brands they know or what's on special.
Maybe your brand only has a single facing vs your competitors that have a whole row.
So having a brand block merchandising point of sale area can help you stand out visually in a busy retail environment to get that initial consideration from shoppers. If that space is also interactive you have an even greater chance of converting shoppers to buyers.
WHERE CAN YOU DO BRAND BLOCK POINT OF SALE DISPLAYS?
You can create brand blocks anywhere really. It can be a gondola, aisle bay, end cap or even a wall shelf area. Every retail space can be broken into an area that is dedicated to your particular brand. In the example above we created a modular system that could be applied to retail shelves for Logitech to help present their range of keyboards and mice.
This design was used across Asia Pacific for small, medium and large stores to planogram their range and achieve bold brand blocking in store. The work co-incided with the introduction of their new brand identity.
CAN A BRAND BLOCK DISPLAY BE INTERACTIVE?
A brand block doesn't have to be a static display with colouring. You can turn it into an interactive space where people can touch, feel, listen or try out your products. We are experts at creating interactive display solutions for retail stores. 
WHAT ELSE CAN YOU USE BRAND BLOCKING FOR?
When you control the shelf area it means you can also dictate a higher % of what is done in the space. So in the example above Logitech took the opportunity to introduce upsell cards for each product. They created a simple system that helped consumer self select the right product from their extensive range.
So, not only did Logitech attract more attention to their brand, they made it easier for consumers to self select and buy. This increased sales, share of shelf, increased average selling prices and reduced the pressure on store staff to serve customers.
Brand blocking can help increase sales.
 
Conversion rates are increased through better shelf presentation.
Self selection and up selling can be made easier.
We have created a number of brand blocking programs for brands with cardboard, semi-permanent or permanent displays that were designed for different retail environments. Brand blocks can be static display areas or be made interactive to let people touch, feel and try products.