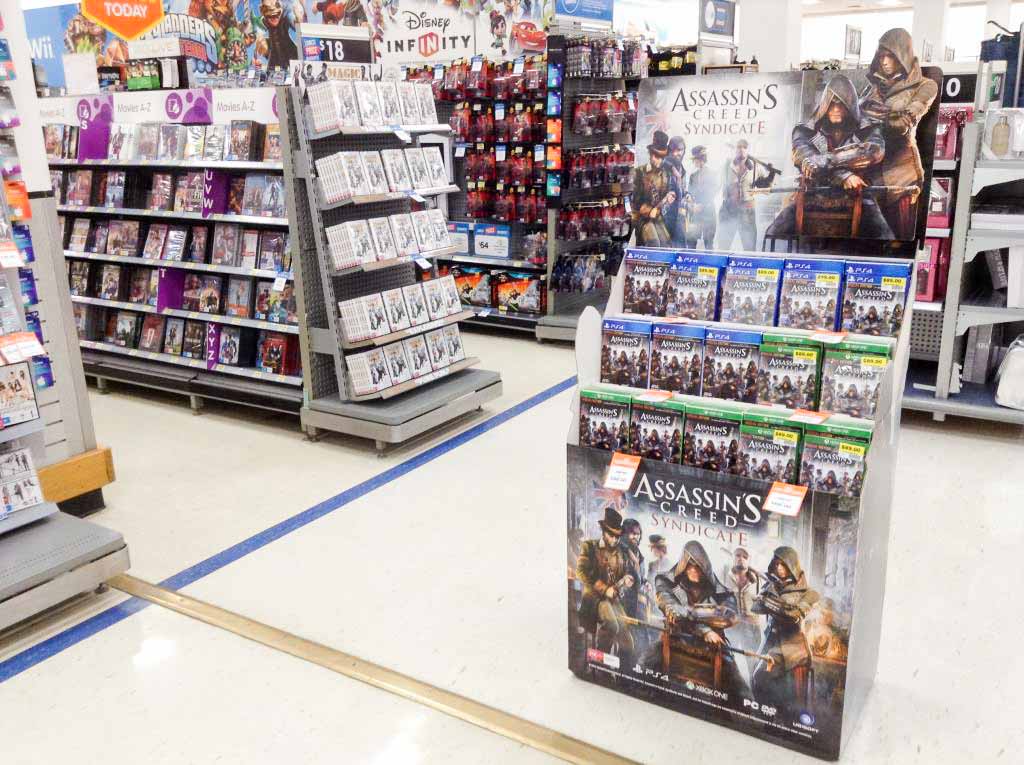 Impactful cardboard display stands for retail
Single or double sided cardboard display stands
Ubisoft needed a flexible solution to display their new release video game, Assasin's Creed. They didn't want a simple cardboard shipper, they were after something that would look and feel a bit more like it was a semi-permanent display while being tall enough to not get lost in the crowded gaming area of retail stores.
Genesis Retail Displays can create custom design cardboard display stands to suit practically any type of product to be sold in retail. One of the most popular cardboard display stands that we create is for video games or blu ray movie releases. 
We can create cardboard display stands that are just simple free standing display units to be placed in an off location area or impactful end cap displays.
Over the years we have been asked by a number of local Australia brands releasing video games or movies to help them create vibrant, colourful cardboard display stands that create impact in busy retail environments. We have worked with companies like Sony Playstation, Ubisoft, Activision, Hasbro, Fox Entertainment and others.
CARDBOARD POS DISPLAY FOR VIDEO GAMES
Cardboard display stands are used in Australia by all the major retailers and they are the fastest, most efficient way to display products quickly. We have created various designs to suit new release video games for Playstation, XBOX or Nintendo. In this example for Ubisoft the design was made to be double sided, but so that it could also be placed on an end cap with a single surface rear element.
This created a flexible retail display solution for their new video game release. In the other examples above there are;
– Aisle end cap feature display for new game releases or promotions.
– Double sided free standing display for off location areas.
– Single sided free standing display that can be placed on an end cap
– Pre-packed cardboard displays that can be set up in less than 30 seconds.
Our design team can craft a bespoke point of sale solution that suits your gaming product from the shape, weight and size to make sure it can easily fit the display and help your brand stand out in store. Our services can then help with getting them distributed into retail stores ready to go on display quickly.
CARDBOARD POS DISPLAY FOR BLU RAY MOVIES
Our expertise extends to doing custom design creations for cardboard shipper stands for products like DVD or Blu Ray movies. We are a pos manufacturer in Sydney that creates everything in-house through our design team. We are equipped with the latest digital printing equipment to make sure that your product is brought to life with vibrant, impactful displays.
Take a look at some more examples in our photo gallery and as you will see our team has the ability to create nearly any type of point of sale display to suit all types of spaces in retail environments.