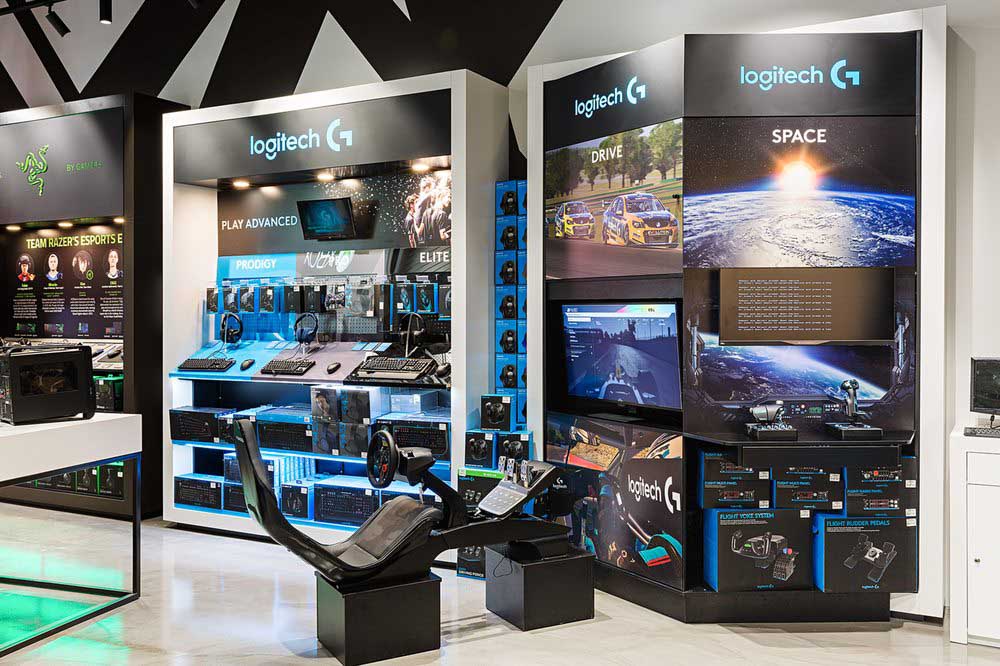 Interactive Retail POS Displays for electrical retailers
Custom designed interactive point of sale for consumer products
Harvey Norman needed a new retail pos display created for their flagship store in Auburn to showcase the Logitech G range of PC Gaming products. Rather than a static display on an end cap they wanted an interactive display that could take up the wall space area of their retail store to showcase a range of products.
This permanent retail display needed to be designed and manufactured in Sydney to make it easy for the local team at Logitech & Harvey Norman to review, sign off, approve and have the display unit installed.
HOW WE DESIGNED THIS PERMANENT RETAIL POS DISPLAY
The goal was to create an immersive experience for people to test Logitech's product range in store. So our design needed to secure all the demonstration products on shelf while also being able to connect to either a computer or games console for demonstrations.
The wall bay permanent display needed to have sound and large TV Display screens to attract people to the area and also let them enjoy an amazing interactive gaming experience. 
The design used a mixture of materials with wood, plastic and metal used to make sure these retail product display stands would be durable, reliable & functional. This is one of the big advantages of custom designed stands and retail displays as it enables us to make everything to be bespoke and suit the brief perfectly.
The Genesis Retail Team can create retail pos displays for all types of products to be demonstrated on end caps, aisle gondolas or even as free standing units or play tables.
THE RESULTS OF THIS RETAIL POS DISPLAY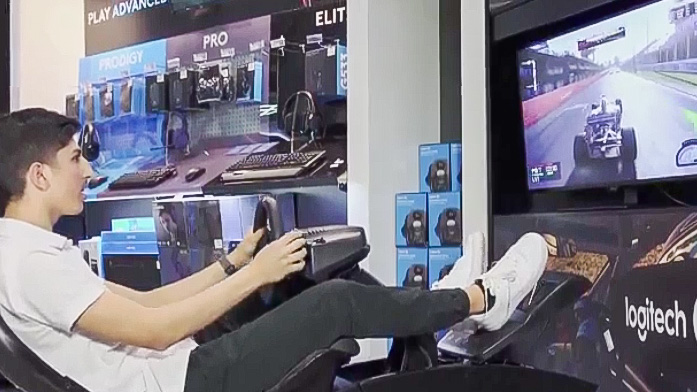 An interactive area for product demonstrations.
A durable permanent display in a retail store.
Increased shopper dwell times as they test products.
The area we created impressed both Harvey Norman and Logitech alike.
"Everyone at Logitech is so impressed so thank you for all your hard work!"
Alice Johnson – Trade Marketing Specialist | Logitech
The whole display area had a mix of product information and interactivity that could let people try out a range of different products including a racing simulator to truly immerse themselves in the brand. Rather than use simple cardboard display shippers or a pallet display full of product, this approach to creating interactivity can really lift the shopper experience and convert more shoppers into buyers as they can touch, feel and try products easily.
The mix of lighting, connectivity to devices and hard wearing display materials will mean the life of this retail pos display will be months if not years, delivering great return on investment.