Point of sale with integrated
select & upsell guide
Permanent point of sale to help shopper selection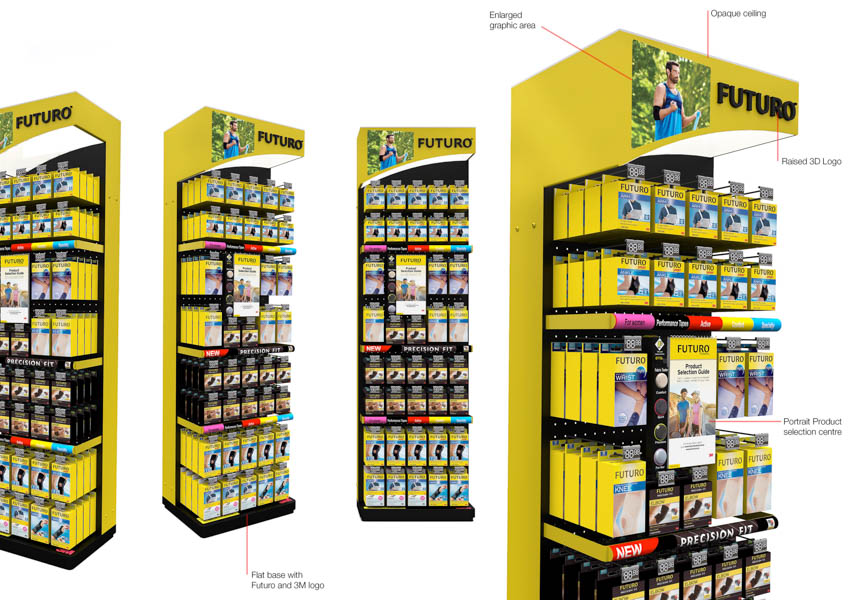 PRODUCT GUIDES ON POINT OF SALE DISPLAYS
CAN IMPROVE RETAIL SALES
Genesis Retail Displays was engaged by global multi-billion-dollar brand 3M as their point of sale display design agency to create new product stands for their Futuro range of products.
Their in-store shopper research together with retailer head office feedback indicated that shoppers were not able to easily select a suitable product in their range. A high proportion of retail stores were experiencing high shrinkage rates as shoppers opened boxes to try the products or see what the material felt like.
So our display stand design brief was to come up with a permanent display that would enable their products to be displayed on adjustable hang sell hooks & incorporate some type of element to help with shopper selection.
Our design team created a modular display that featured a unique product guide that could be updated and changed.
MODULAR PRODUCT DISPLAY STANDS
EASY TO SET UP OR UPDATE
Our design team custom designed this product display stand solution so that it was not only easy to install, but very simple to update when required.
This ensures the investment being made by the brand would deliver long term benefits & a higher chance of long term in-store placement.
The design elements included;
Modular design that was easy to set up and install.
Changeable product guide unit that could be updated as new products are launched or for seasonal range changes.
Touch and feel fabric sample pads.
Durable metal construction suitable for wall, aisle or end cap placement
Corporate identity guideline specific brand space and colouring.
CAN PRODUCT GUIDES
BE USED IN ANY RETAIL SECTOR?
POINT OF SALE THAT IS EASY
TO TRANSPORT, SET UP & PLANOGRAM
When you get point of sale that is custom made & designed specifically for your brand there is the benefit of also controlling how it is built and transported.
For example, many brands use our unique Presto Cardboard Display Stand that can be installed in less than 30 seconds because it can save thousands in merchandising costs.
Other brands we have worked with have required Pre-packed point of sale  display units that have their products already in the unit ready to be sold.
In this example 3M wanted a product display that was modular and could be distributed around Australia with flexible around how it was set up or installed in a shop. They had to cater to different retailers who had different planograms for their Futuro range.
So part of our design also focussed on packaging, distribution, instructions & of course the hang sell design that would enable different stores to display the range as they needed.
HOW DOES USING A PRODUCT GUIDE WITH A DISPLAY HELP BRANDS AND RETAILERS?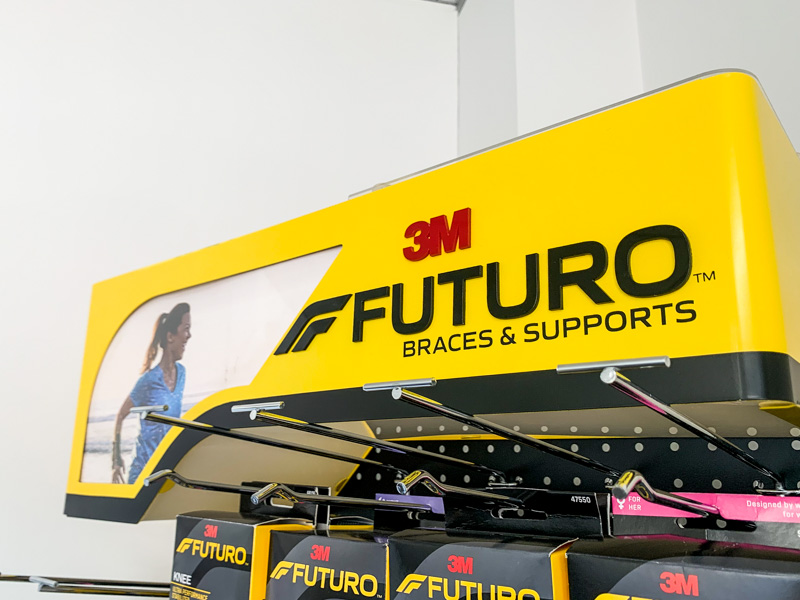 For any brand or product manager the investment in point of sale display creation should be focussed on achieving more sales so that you can deliver ROI for the business. There are many ways to evaluate this beyond unit volume sales; 
Brand share of shelf; by investing in permanent retail displays you immediately increase your brand's share of the retail shelf space. It is the fastest way to get an edge over your competitors & unlike advertising, it will deliver long term benefits.
Regular brand re-enforcement; we all know that shoppers need to see brands multiple times before they become really aware for even consider them in their purchasing cycles. Having a permanent display aids this process be being constantly visible vs getting lost on a crowded shelf.
Range selection; typically when you have your own display you can control your presentation and ranging a lot better, it could even mean an increase in the number of facings you have. This can help shoppers with their purchasing and selection by being able to easily see and compare your range.
Average selling price increase; this can help both the brand and retailer. It is a well known fact that if shoppers are comfortable they will buy more, so if you present your range really & in an easy manner to select, then chances are, more expensive items will be bought. Many brands do not make it simple for people to understand the feature and benefits of high end products in a range.
Reduced shrinkage; if a brand can help a retailer reduce their costs then they will be favoured. Shrinkage and theft are two of retail's largest costs. In this example shrinkage was reduced because it was easier for people to select the right product and sample the materials.
Planogram compliance; a brand can make it easier for a buyer to get in-store compliance for their planogram by making the display easy to manage/adjust and maintain. The improved compliance will lead to better stock representation, more sales and better share of shelf. 
Invest once; rather than spending regular marketing budgets on cardboard stands that are used for a few weeks, a permanent display can be used in store for 12 months or more. 
can you add video or sound to a product display instead of a printed guide?
For brands that have the available budget, it is possible to take things a step further and include interactive elements like video or sound into a display. This can take things to a whole new level and give a shopper a more immersive brand experience when they are in store.