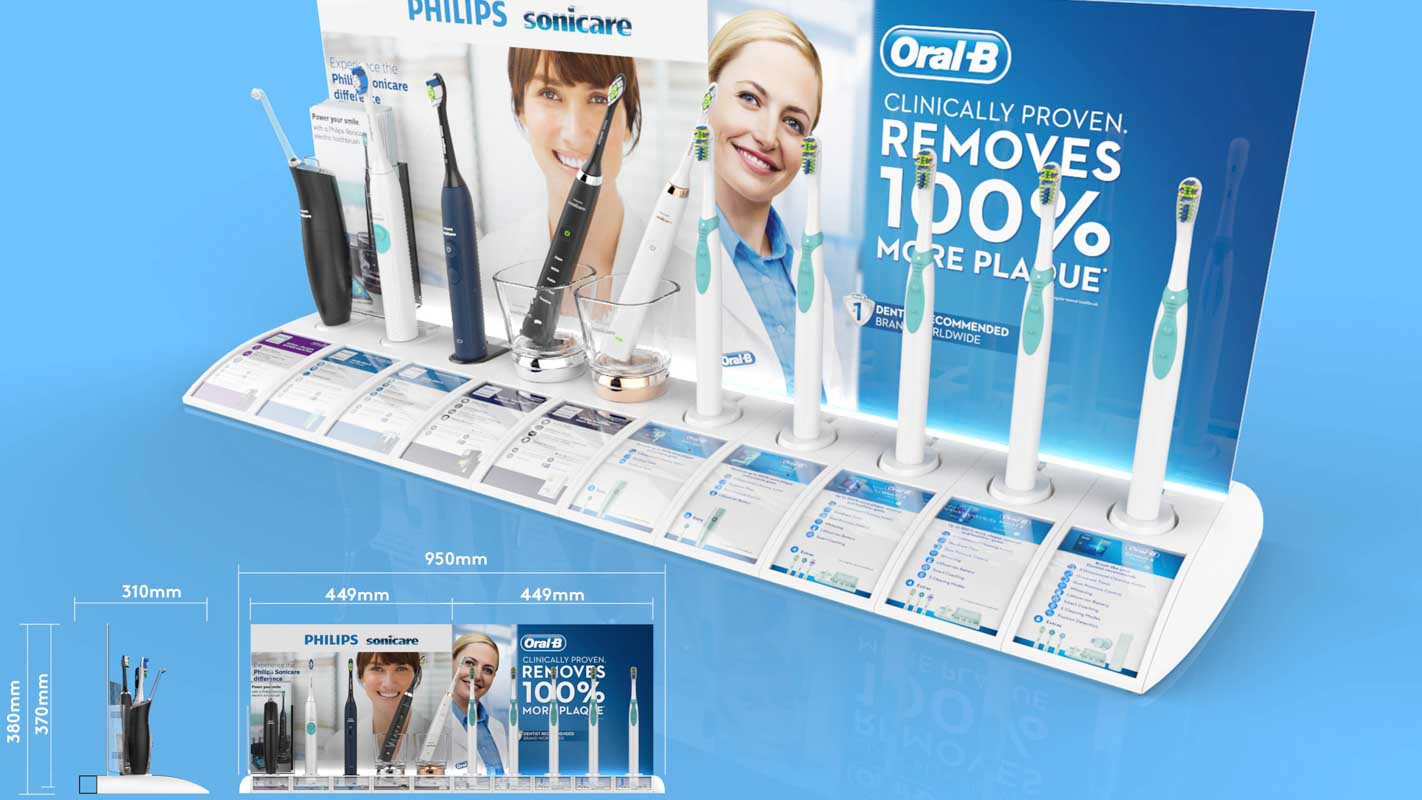 A Modular Interactive Display for Health Products
An interactive display that can adapt to different shelf sizes.
Philips wanted to increase their retail market share of toothbrush products by creating stronger in store presence across their retail footprint in supermarkets and pharmacy stores. 
The range of stores carrying their products was anything from a large format supermarket to an independent pharmacy store & resellers. With a wide range of products they also wanted to help consumers to choose the right product while also assisting the up-sell process without needing the help of a retail salesperson.
The Electric toothbrush category has very intense brand competition with two major players dominating the segment. The Philips range of products are premium in nature and offer many high-tech features.  So the intent behind creating this new shelf display was to portray the premium nature of the product range while also educating consumers on the numerous feature & benefits. This was made even easier with the element of interactivity built into the shelf display design which would help convert even more shoppers into buyers.
A MODULAR AND SCALEABLE DISPLAY SOLUTION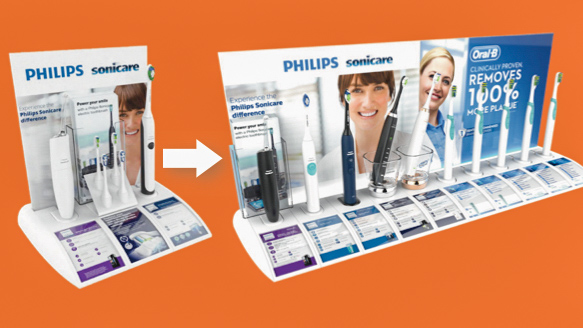 The brand had already spent lots of money on different visual merchandising strategies over the years. Their biggest challenge was the multitude of store sizes, retail shop formats and retail brands they were dealing with. It made it a complex task to come up with a retail point of sale solution for their product displays.
What we designed was a number of concepts that revolved around a modular interactive display idea. This could easily be scaled for use on a full aisle bay shelf, countertop display space or even near a checkout counter area. 
This would enable them to secure retail shelf placement in supermarkets or local pharmacy shops with flexibility around how small or large the display needed to be to suit that retail space.
Working with the Philips brand team the modular, click-together, display allowed for virtually any size configuration of display.  This opened up the flexibility to offer each retailer bespoke range offerings and POS to support them without the need to create custom, locked in display formats which can be expensive.  
The modular approach means the brand can be nimble in response to new product launches and retailer ranging changes while also maintaining their retail share of shelf.
A DISPLAY THAT HELPED CONSUMERS DECIDE
Rather than just be a simple branding exercise to grab more share of shelf, Philips wanted to add value to the consumer purchasing journey and educate shoppers on which toothbrush was the right fit for their needs.
This self selection process meant we needed to create a simple and modular system that could display product feature and benefits that was also interchangeable. The aim was to increase the average selling price of the product category while helping people buy the right product.
from DESIGN concept to RETAIL SHELF DISPLAY
Philips took on our ideas and very quickly the final point of sale display unit was created. It was taken on by supermarkets and pharmacies as anticipated. 
Cost savings by removing the need for custom displays for each retailer.
Cost savings by using a modular, scaleable design.
Speed to market with interchangeable pieces.
Easy introduction for new products
Consumer interactivity to enable 'touch and feel'
Significant environmental benefits due to increased longevity by using the same display materials.