Retail end cap point of sale design & production for KitchenAid
How we helped a global brand save time and money manufacturing point of sale
KitchenAid engaged Genesis Retail Displays to assist the execution of launching their new cordless kitchen product range in Australian retail. It was a new market segment they were entering and they wanted to design end cap displays that would enable shoppers to pick up and try the products.
Their initial design drawings turned out to be relatively expensive to produce. So our industrial design team produced a different approach that;
Saved money on production.
Reduced the set up time in store.
Enabled local Australian production to control quality.
End cap interactive product point of sale displays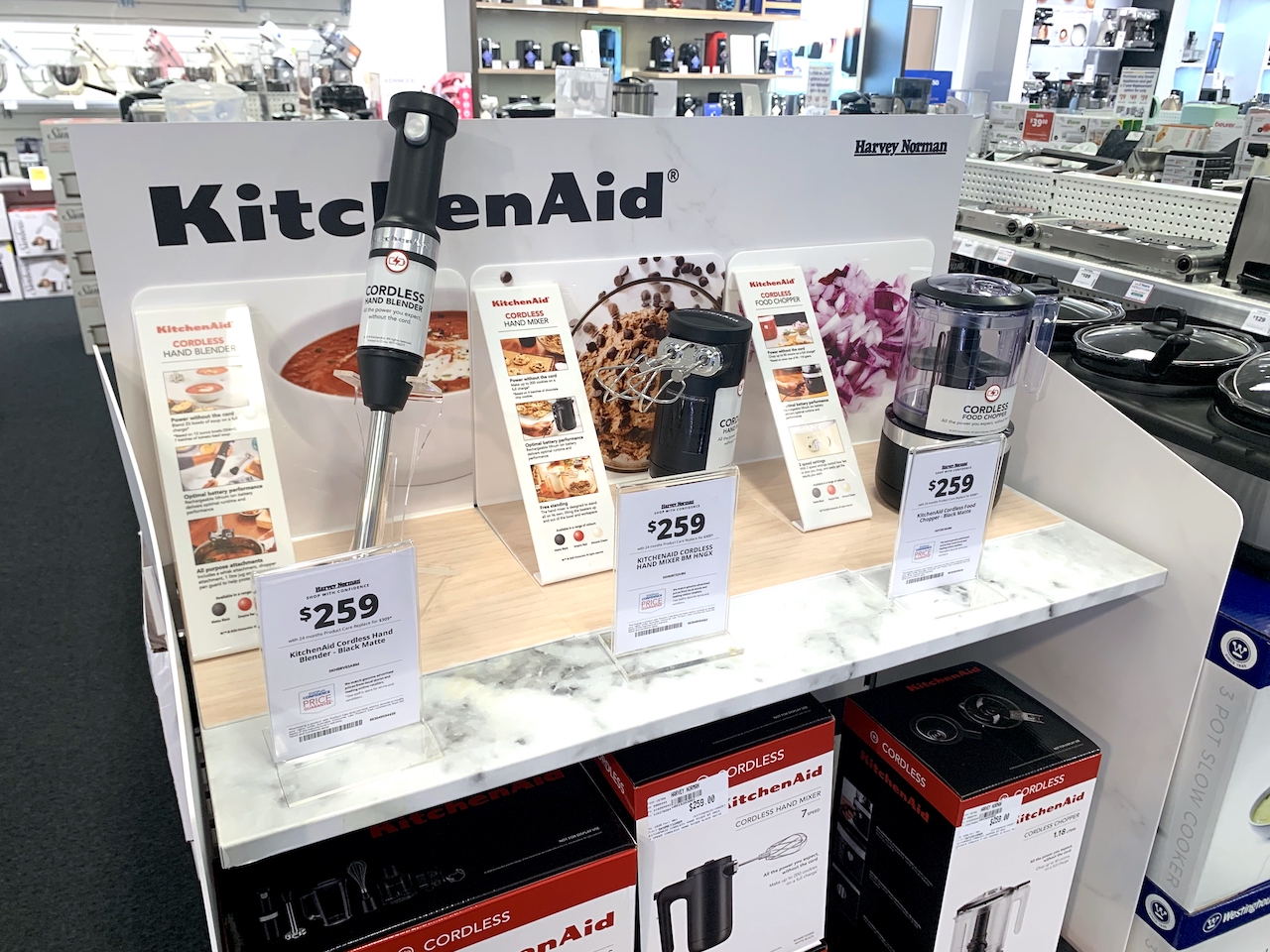 This new product range was a completely new concept for kitchen appliances. Most consumers are used to plugging in a blender or mixer but this new range was cordless, so the best way to demonstrate that was to get the products out of the box.
KitchenAid had anticipated that there was a high risk of consumers opening the boxes in retail stores to see how heavy they were or how they felt when holding them. So the best way to improve the shopping experience & grow share of shelf in retail was to create end cap product displays.
By investing in this type of retail point of sale manufacturing & execution it helps the sales team to win support from head office buying teams & get prominent placement in store. KitchenAid wanted to grab as much consumer attention as possible in a short space of time, there is no better way of doing that than highly visible end cap displays in retail stores.
Putting products on an endcap gives you the best chance of being seen in the highest traffic flow areas of a retail store. While some retailers might charge end cap rental fees, these can often be covered through increased sales.
In KitchenAid's case it would also mean they are creating a semi-permanent display space for their products which can also lead to increased buy in volumes as the retail needs to fill the standard shelf planogram plus the end cap spaces.
Modular product display for end caps or aisle countertop shelving areas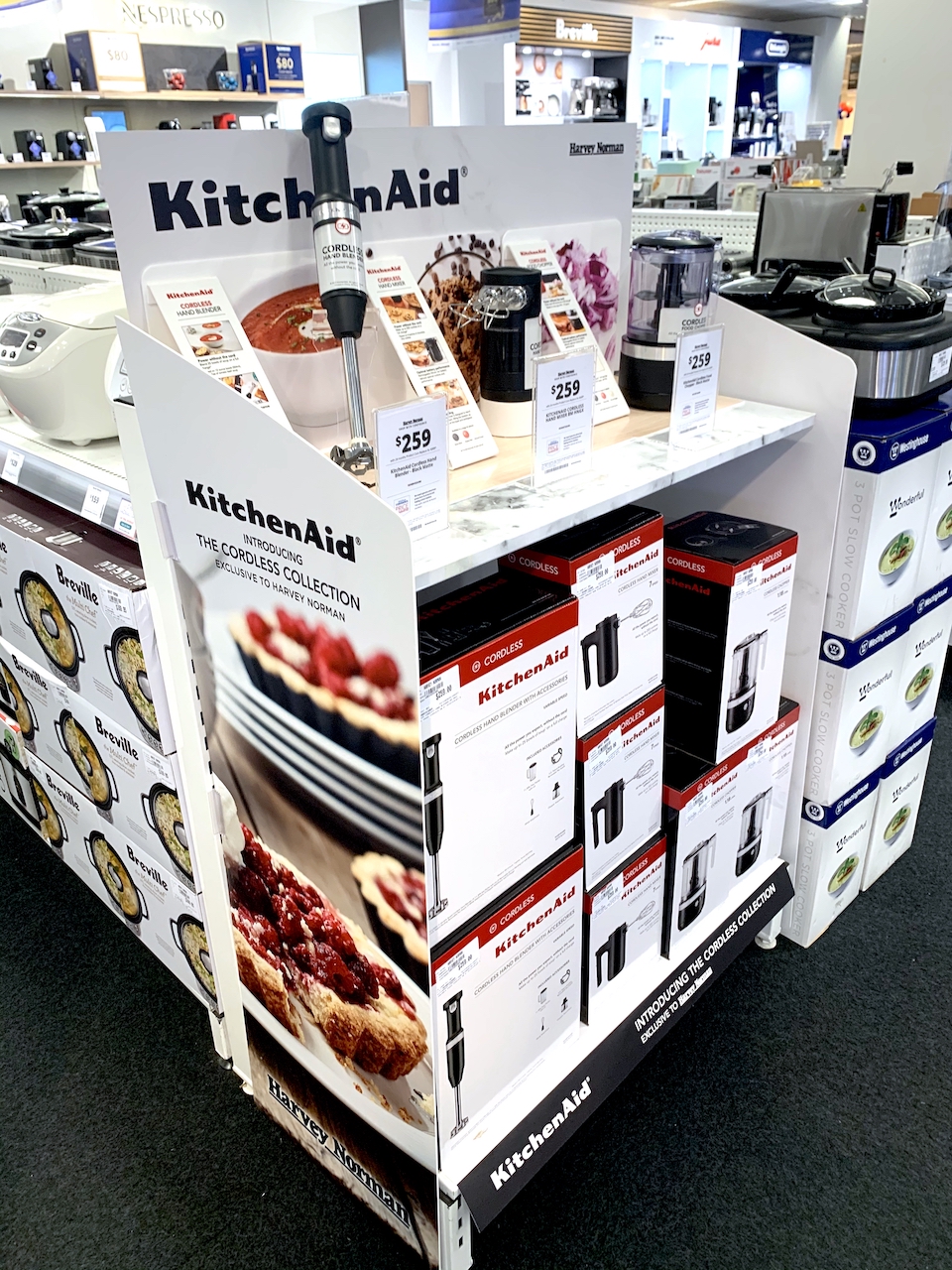 The other design challenge we overcame was to create a modular system that could accommodate individual products. The benefit of doing this is that each SKU can have their own features and benefits presented & the display can cater to different planograms or store sizes.
So in the case that a store might have multiple products on the range the displays can be split so that some products are on the end cap and others are. on the countertop area of the aisle shelving. It also means as new models are released in the range the displays can be easily updated without needing to do a complete roll out again.
Why was pre-packing chosen for this end cap display?
The other aspect of this end cap point of sale design execution was to implement a pre-packed rollout for the units when they were distributed into retail. Normally a display will be manufactured then sent to the retail stores to be put together & then products added. A pre-packed display skips the need for this & we produce the displays with the demonstration products already set up.
This method costs slightly more to produce and distribute the point of sale, but, a brand can then save thousands in merchandiser fees plus maximise in-store compliance by making it simple for retail staff to set up on a shelf. The other benefit is that we custom design the packaging that is used which also ensures there is a super low percentage of breakages in transit. 
So a slightly higher initial cost leads to time, money and set up cost savings down the line with the benefit of fast compliance across retail. It means that brand or product managers can have confidence their execution will support any demand generation programs quickly.