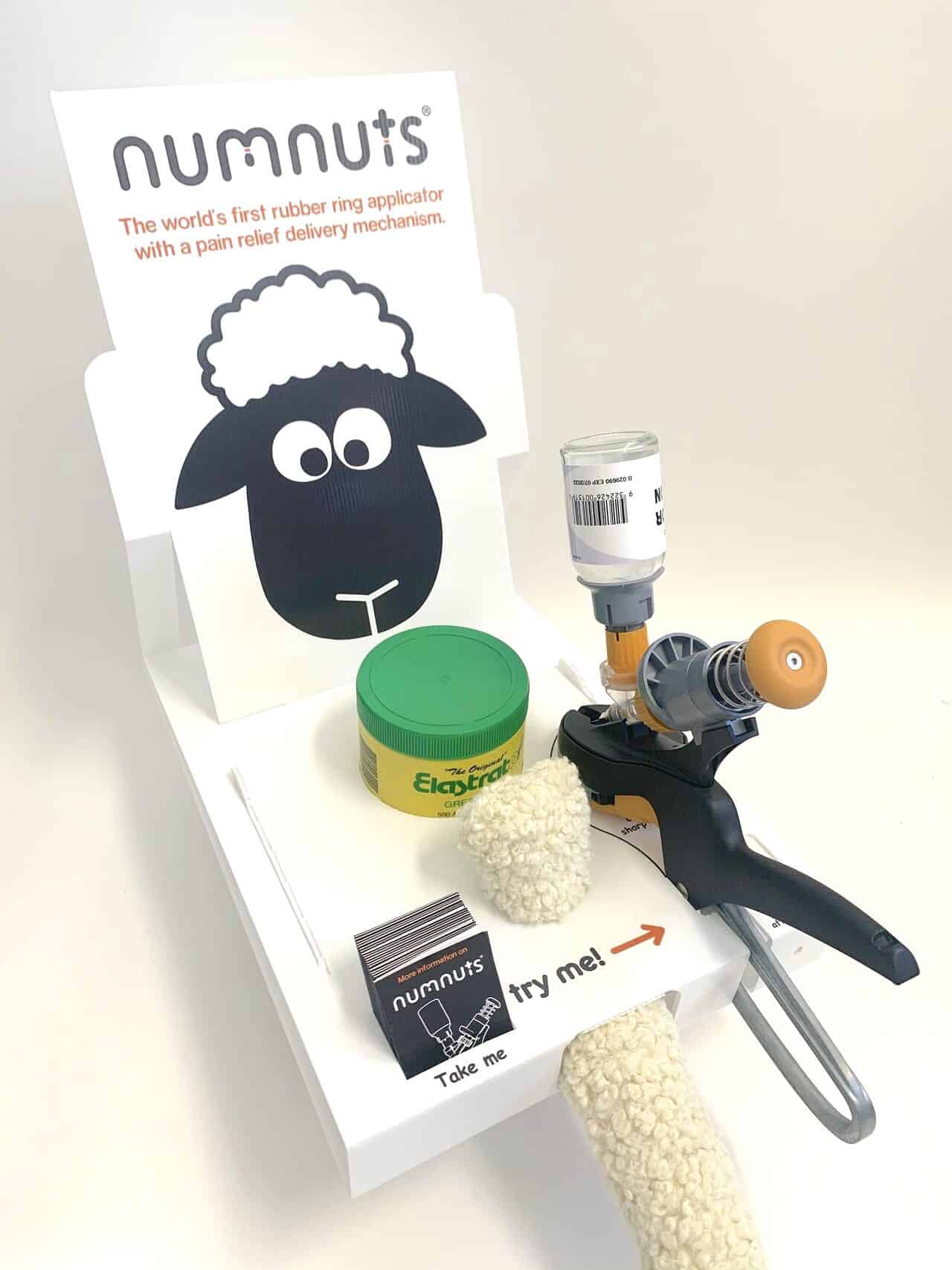 Corflute Countertop Display That Is Interactive
An Australian point of display agency that does custom design

Robin Smith is the founder of numnuts and he was looking for an Australian point of sale design agency that could help him create a custom made point of sale display to show off his products on countertop areas, we did this using corflute.
Numnuts provides targeted pain relief for tail docking and castration of sheep with a rubber ring. They have designed an easy to use ring applicator, combined with an injector that dispenses NumOcaine anaesthetic. It is a product that has been validated by the CSIRO in Australia and the product provides lambs the best start in life, giving welfare focused sheep farmers an ethical, sustainable approach to castration and de-tailing.
Robin wanted to build awareness of numnuts with a product point of sale display that could be placed in vet clinics and rural stores in Australia. Although the pos design brief was a little unique because Robin wanted to show off the product as well as a faux sheep tail to help bring it to life.
He didn't want a simple cardboard shipper stand so we helped come up with some POS display ideas for him to choose from that could achieve his goals. What we ended up creating was simple, effective & even enabled Robin to include little information cards that people could take away. The small footprint of the corflute shelf display it would make it really easy for Robin to get it placed on countertop areas.
To make the process easy we helped by creating a prototype and also assisting with the logistics of getting the point of sale distributed in packaging that would ensure it didn't get damaged in transit.
Using corflute made this product point of sale execution cost effective and scaleable. To really help it stand out the interactive elements included the application gun, the lamb tail and a sample product. Fast, easy & effective for people to visualise what the product did when visiting a vet.
Genesis Retail Displays managed the design, manufacturing and production of this corflute point of sale design in Australia.
What is corflute when used in point of sale displays?
For lots of retail brands the most typical product point of sale material that will get used is cardboard. In the majority of cases this will satisfy a product marketing execution where you only need a short in-store life of a few weeks. Cardboard shipper displays may last longer depending on the thickness and construction but for most retail environments they will quickly get damaged.
For product and brand managers that want to create product point of sale displays pieces that last longer in retail stores then you have to start considering the use of other types of construction materials. 
Corflute is essentially a plastic version of corrugated cardboard which offers better durability with a more rugged design that has great resistance to liquids and humidity. Corflute is the industry name given to corrugated polypropylene which is a fluted plastic that is lightweight yet rigid. The plastic is extruded to give it the large rectangular flutes all the way through it and we use it extensively on a number of our point of sale display projects where the items need to last for a few months or longer. Depending on how the corflute point of sale is designed it can last a few years.
Corflute is non toxic and fairly resistant to most chemicals and it is a cost effective material to use for point of sale product displays that is recyclable too. A point of sale design agency in Australia like Genesis Retail Displays can custom design a product display, from scratch, that uses materials like corflute, wood, perspex, glass or other materials to create exactly the type of display that is fit for purpose.