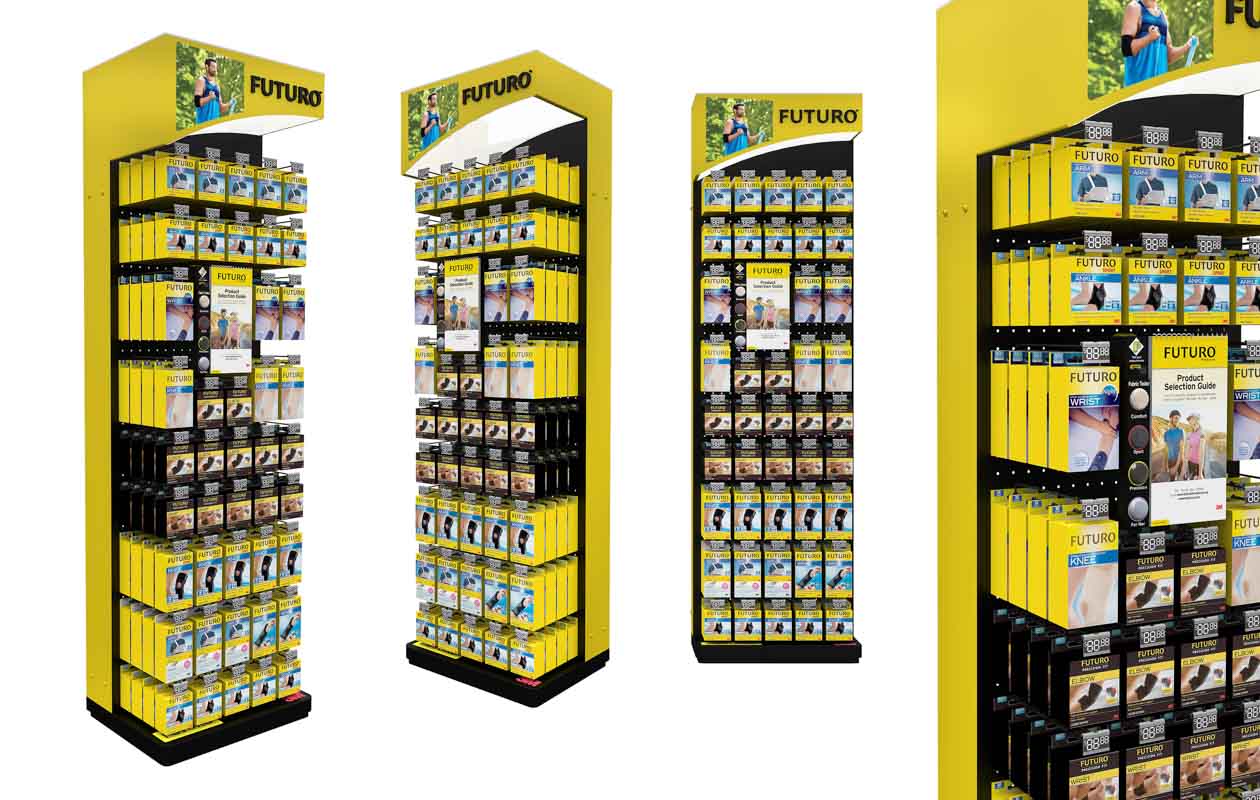 A POS Display can include elements to convert more shoppers
Clever point of sale design can help grow product sales.
The team at 3M wanted a new POS Display designed to help them improve a shopper's product selection experience for their range of injury supports and braces. Their brand team was constantly being asked by retailers to help cover the product shrinkage costs that stores were constantly faced with as customers were continually opening the product packaging to touch, feel and try the product before buying.
It meant that in many cases they were losing sales through shoppers not able to select the right product for their needs or getting fed up trying to work out which one was really suitable. 
The consumer insights provided the 3M team with tangible evidence that shoppers were struggling to make a purchase decision as they couldn't really understand the sizing, material feel or aesthetics of the products which was limiting retail sales opportunities. Apart from creating a messy retail display area products were also getting damaged as people ripped open the packets.
So the 3M Team wanted a local point of sale display company to design a permanent retail product display solution that could showcase their range, deliver brand impact & a shopper selection piece that could give customers everything that wanted to convert them into buyers to increase sales.
This retail display solution needed to be flexible to accomodate changing product ranges, seasonal promotions and updates made to the product selection element.
HOW WE DELIVERED THIS DISPLAY SOLUTION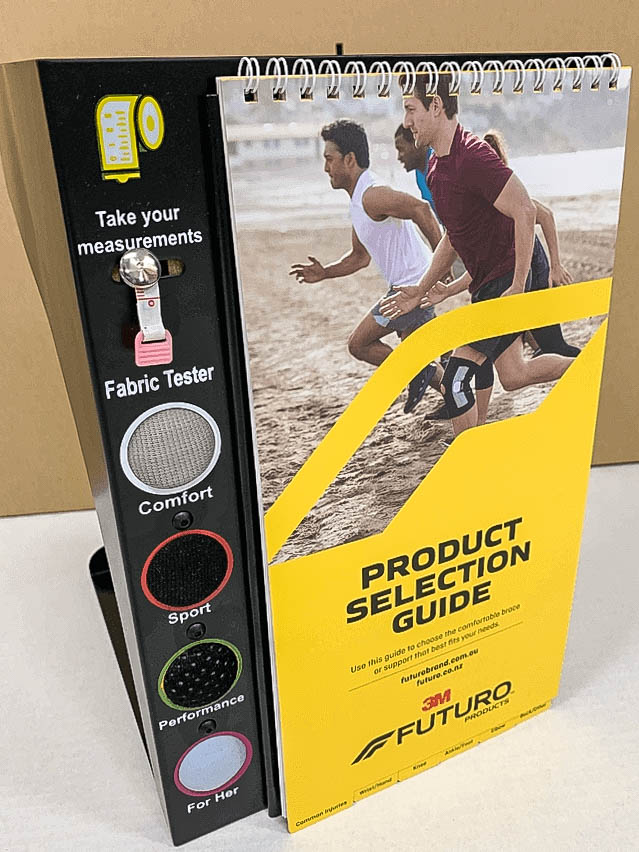 Genesis Retail Displays designed a bespoke point of sale solution that;
Could be placed in a pharmacy or supermarket retail store.
Could be able to showcase the whole product range.
Fit into existing planogram tools easily.
Include an interactive product selection guide that incorporated a;

Measuring tape
Selection guide 
Touch & feel product swatches.
We worked closely with 3M's brand team to come up with a retail display design that was modular, scaleable and could be applied to different retail store situations. So the focus was on a permanent fixture that would be placed on walls but we also designed off location displays like cardboard shippers, a small free standing display unit and shelf dressing designs.
This meant the brand could present their retail partners a number of options to improve the product range presentation on shelf. Combined with the new product selection unit it would also reduce product shrinkage, lift sales conversions & potentially even lift ASP's as shoppers choose a product more suitable to their needs rather than what is the cheapest.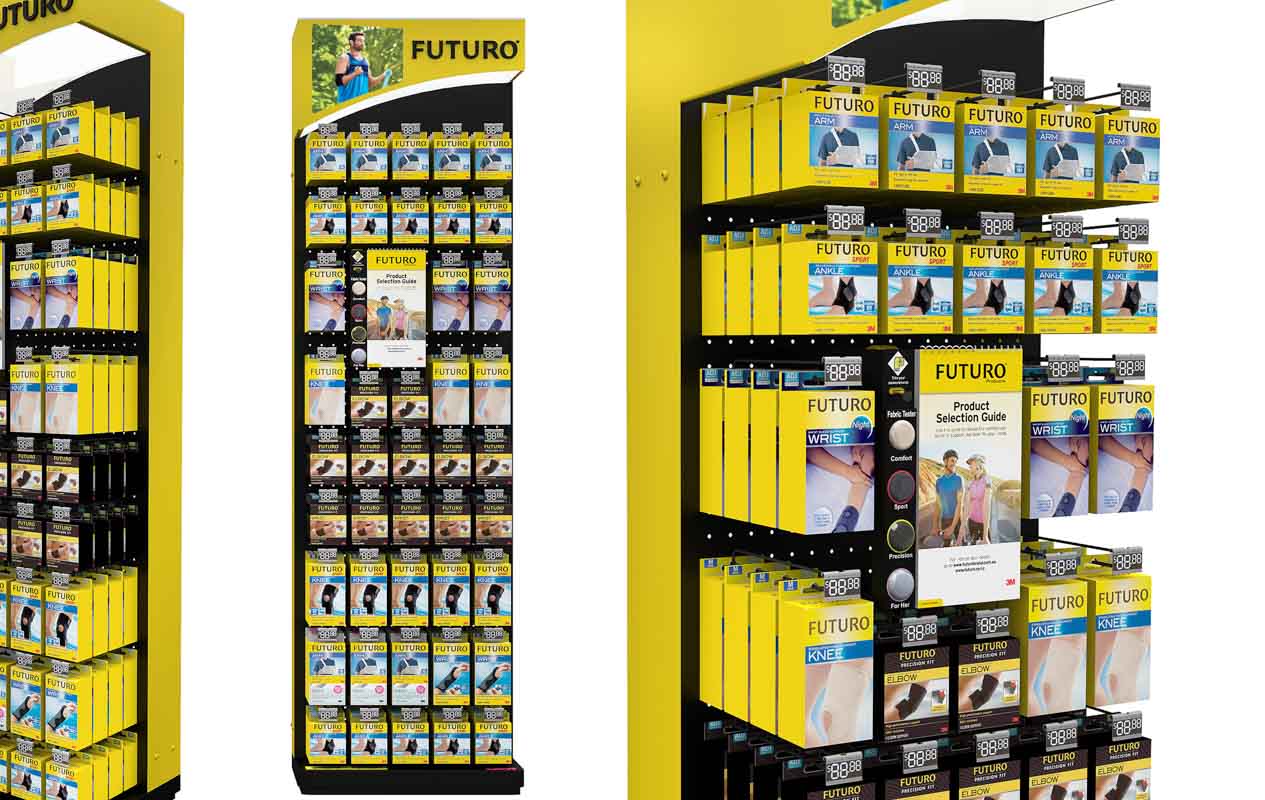 Reduced in-store product shrinkage.
 
Improved customer self selection.
Brand share of shelf increases.


Improved retail product presentation.
The 3M Team were extremely impressed with our approach to creating retail store point of sale display stands that incorporated a product selection guide. Genesis Retail Displays specialises in bespoke retail display stands and this is another example where we leveraged our extensive pos design experience to deliver a specific solution to sell more products in retail.
It meant that the designs could be applied to create either wood or metal point of sale stands that would be durable and stay in use for a long period of time.