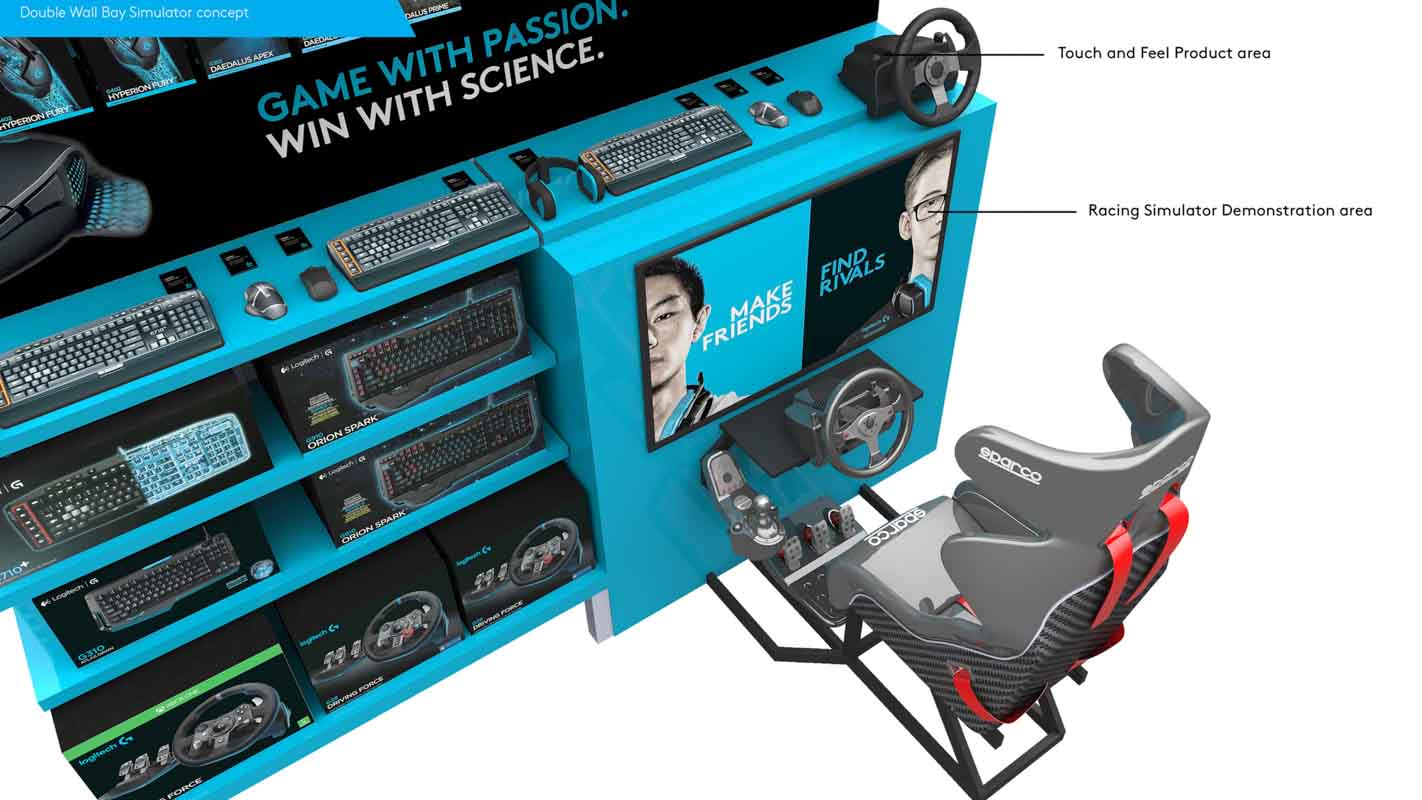 Interactive Product Displays Help Premium Brands Sell More
Point of sale design agency in Sydney for video & audio displays.
Consumers are slowly returning to buy products in retail stores and with 2020 being such a difficult year for many, there will be more reason than ever to splurge on the latest consumer electrical products. A lot of consumers have not been actively spending over the past year so for some it is a chance to upgrade their household products and maybe even spend a little more than they normally would.
For premium brands who sell products in retail this is a great opportunity to showcase your product range with an interactive product display that includes a mix of light, sound and video to help showcase your skus.
Recent reports indicate some major shifts in consumer buying behaviour that brands should be considering. Consumers are more conscious of introducing products into their lives that offer self-care and entertainment given the changes to how we currently live. A person's home has become a new venue and experiential moment that opens up opportunities for premium brands to own those moments and at-home rituals.
A recent Ad News story talked about a beauty & wellness idea of "LIFE IN THE SLOW LANE" where people want to be able to relax, slow down and enjoy time at home.  This immediately suggests products in the category of home spa and massage where retailers like Harvey Norman have a huge range available with more than one hundred items in just this category alone.
Google's latest 'Rising Retail Categories' data highlights this trend perfectly with the combination of summer & people looking for ways to entertain at home leading to 'Outdoor Kitchen' to be one of the fastest growing search queries this year.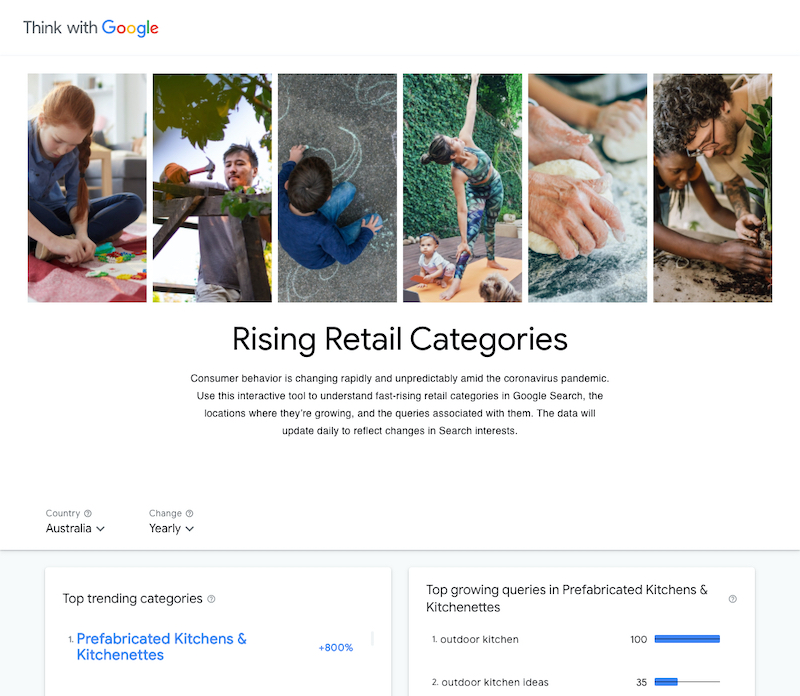 PRODUCT DISPLAYS WITH VIDEO MEANS 1.8X BUYING DECISIONS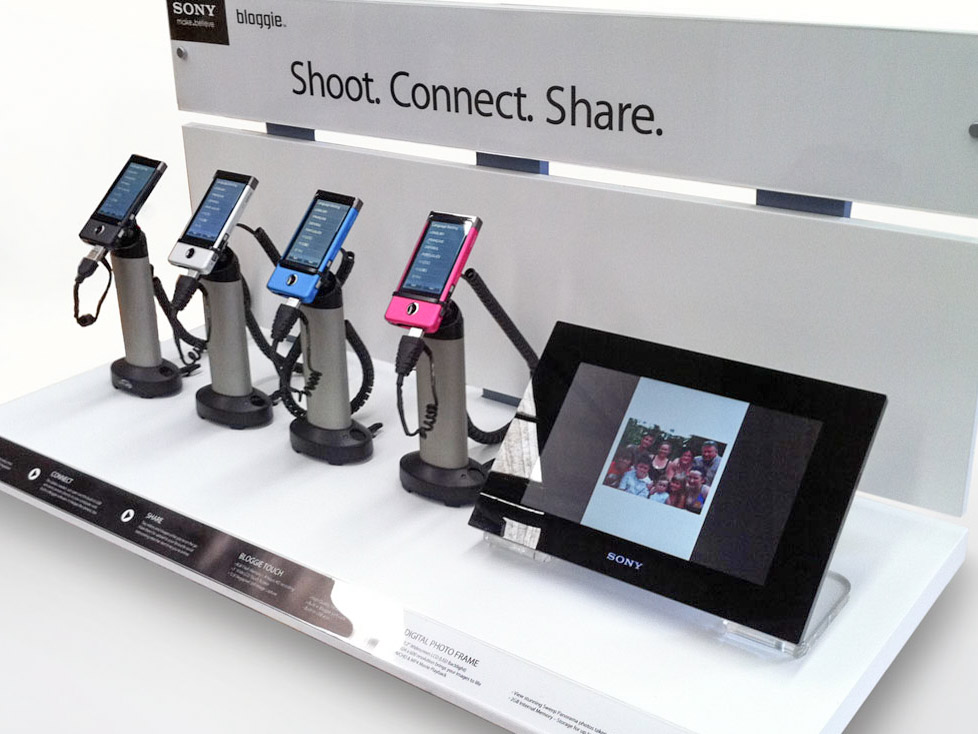 Consumers watching video are 1.8X more likely to buy
Big Commerce reported the significant impact video can have on shopper purchasing decisions when consumers shop online and those same traits can be replicated for in-store situations. A product display can have video integrated into the design so that your brand can replicate any online executions for your retail displays as well. This means your budget for video creation is maximised by being used as a multi-channel execution e.g online, social media, in-store etc.
The video displays can even be designed to hold multiple videos or even have buttons to control what is watched.
INTERACTIVE PRODUCT DISPLAYS FOR SHELVES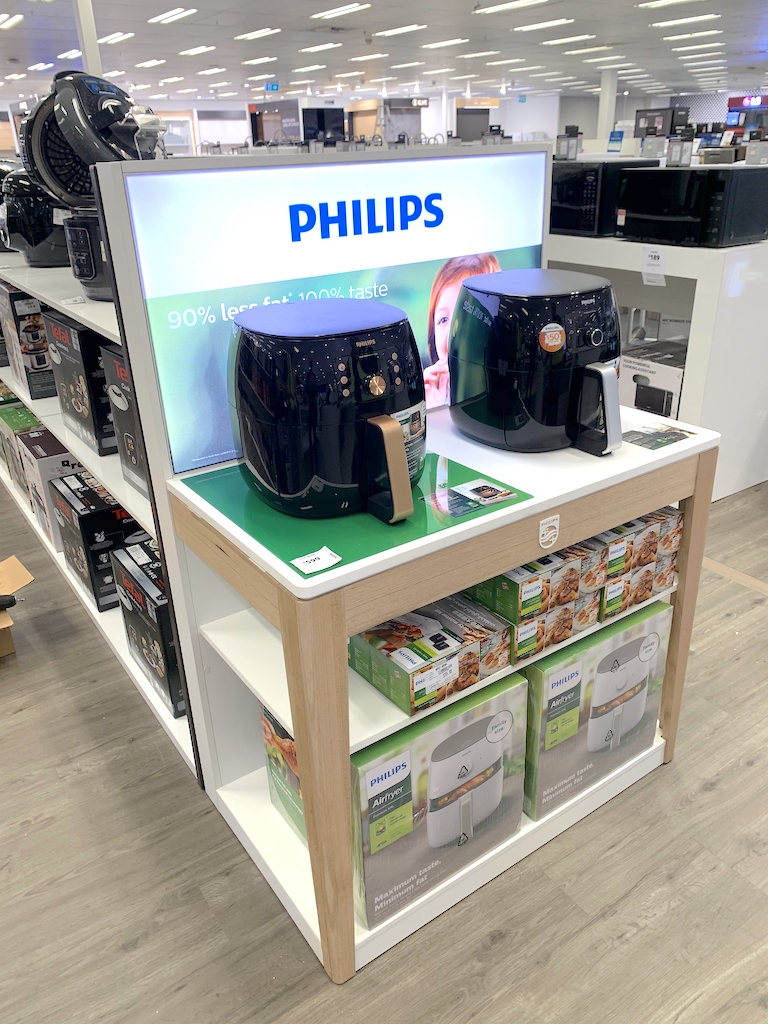 Interactive product displays for shelves or end caps
Genesis Retail Displays is a company in Australia that specialises in designing custom made interactive product displays that can be used in different areas of retail stores. The investment into pos displays can help to gain an advantage of over other brands where your products can use light, sound, video and even interactive buttons to bring a product to life. You can use these types of displays to show off premium features and benefits of a product and help a shopper to make the upsell across a range on their own.
These interactive displays can be made to fit any shelf size whether it is an aisle bay, gondola end or end cap.
INTERACTIVE PRODUCT DISPLAY COUNTER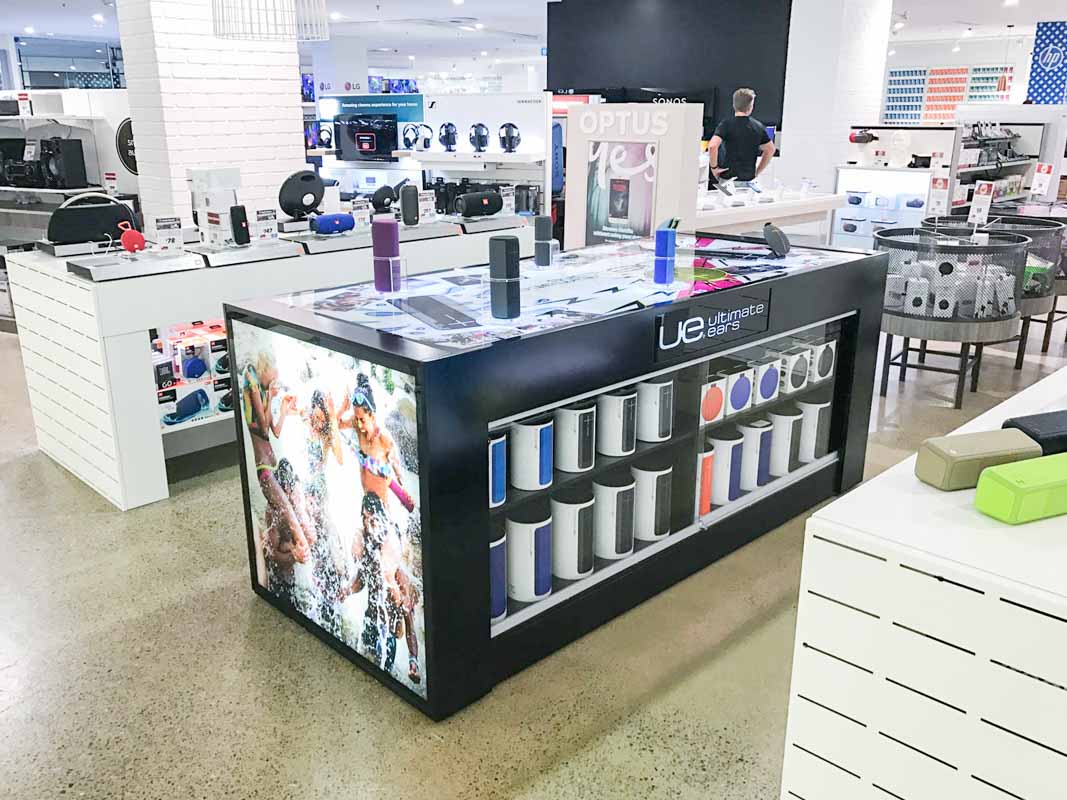 Interactive product display space for a retail shop floor
Taking things a step further a brand could negotiate with a retail to rent floor space for a period of time and build their own interactive product display space. This could be in the form of a display table, free standing display unit or even a wall bay. It is the best way to stop shoppers and grab attention for your brand and product range, elevating it from everything else in the category.
See more more of our examples & case studies
whAT ARE POS RETAIL PRODUCT displays?
Where are point of sale displays located?
A point of sale display (POS display) is a specific form of sales and marketing material that is generally found near the cash register areas of a retail store or in other prominent locations like an end cap, aisle bay, promotional goods area or demonstration tables. So these point of sale displays have the aim of attracting a shoppers attention away from the standard shelf placement and planogrammed range of products to try and help mind share for that brand or product. Typically the brands that execute great point of sale displays will increase their sales.
What are point of purchase displays?
Point of purchase displays come in various forms and in many cases some people might consider them as the items next to a register but really the whole store is a 'point of purchase' when you think about it. So a point of purchase display can be anything from simple countertop shelf signage to things like free standing cardboard product display stands or even permanent interactive point of purchase displays that have video, lights and sound. Genesis Retail Displays are experts at solving product point of sale display scenarios to get products of all shapes and sizes on display in different parts of a store. We are a specialist in designing point of sale in Sydney that can be used in any retailer in Australia.
How much does a point of purchase display cost?
We love this question and the simple answer is something like 'how long is a piece of string'. While this sounds silly the fact is that the cost of point of purchase displays can vary from $1,000 to $100,000 depending on the scale and complexity of what you are trying to achieve. If you are happy with mass produced, pre fabricated units then head to Officeworks and buy their standard product display stands. The challenge you will find is trying to align standard designs to your brand, product weight and colouring by trying to adapt off the shelf items.
If you want a point of purchase display that is effective then the only solution is to get custom designed displays that perfectly suit the size, weight and shape of your product, your corporate identity guidelines and your intended purpose. While the cost of doing this is higher, you get a higher quality and more impactful result.
What is the difference between point of sale and point of purchase?
A common misconception is that point of purchase refers only to the space within the store where the transfer of money for the goods occurs, such as the checkout. Although really, point of purchase can be broader than this and be considered the whole shopping environment. The actual checkout area is usually referred to as the "point of sale," because it is at this point that the buyer has given over their money and completed the sale. The terms get used interchangeably, but think of point of sale as a more narrow way to look at point of purchase. By these definitions, point of purchase marketing can be understood as whatever marketing or merchandising materials your brand provides to its retailers in order to help sales of your product in the store, or whatever materials you include with your product to accompany it where it is displayed.
What is a point of sale promotion?
In most cases a point of sale promotion is referred to as either POS or POP and mean similar things. It is the idea of promoting your brand and product by creating materials that can allow your product to be placed in extra areas of a retail store environment. You can get your product placed in off location areas of a store that are in high traffic areas to create incremental sales opportunities for your product. Doing a point of sale promotion is the best way to increase sales by taking advantage of the existing retail store visitors who are already shopping.
What is POS example?
Genesis Retail Displays has lots of POS examples in our online photo gallery that have been created for different retail locations like grocery, pharmacy and electrical stores.
How does a POS work?
POS or POP displays work by drawing attention to a new product, seasonal promotion or special offer that is presented using different types of point of sale display designs like free standing display units, PDQ's or even semi permanent end cap displays. By creating something different to the normal retail shelving space you immediately create a visually impactful area for your brand and product that has a greater chance of converting shoppers into buyers by drawing their attention.