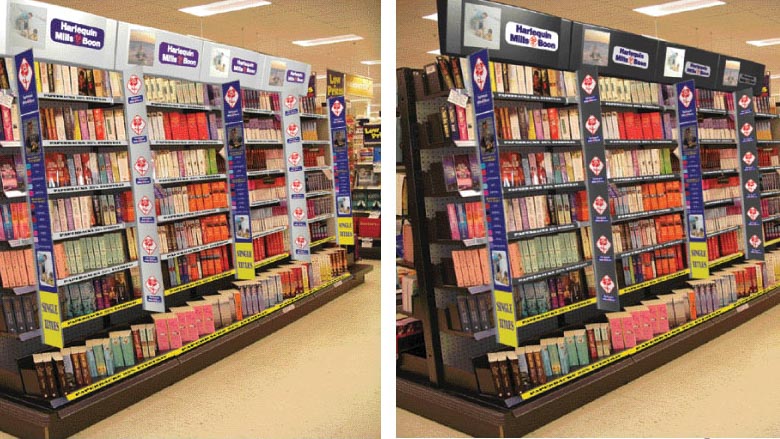 40% sales growth from brand blocking in retail stores
Custom design pos solution that grew sales.
the PRODUCT DISPLAY problem WE SOLVED
The Mills and Boon brand wanted a way to get an edge over their competitors in retail stores. Typically all the brands shared a very generic shelf space area that was planogrammed by the retailer.
Mills and Boon wanted a clear distinction of their products on the shelf to visually identify them as the category leader as  shopper walked through the aisle.
Some of the other requirements for this custom design point of sale execution our agency needed to solve were;
To create the ability for the brand to remain fresh with interchangeable panels that could be used for seasonal promotions or new product releases.
Make selections easier for shoppers with simpler genre segmentation.
Create a more organised way to present their brand. 
Make sure there is visibility front on as well as when people are walking along the aisle
Use the existing retailer fixtures to minimise costs
HOW DID WE DESIGN THIS BRAND BLOCKING?
Using our in-house industrial design team we set about coming up with some different design solutions to meet Mills and Boon's brief.
What we arrived at was a custom designed point of sale product merchandising system that created an immediate lift for their in-store brand marketing efforts. It made the area look and feel like a Mills and Boon brand owned space.
This retail product display solution was created with a modular structure which made it easy to then install across different retail store environments and floor plans like Target, Kmart and Big W. This meant it made it easy for store staff to use the existing planograms and the retailers category management systems didn't need to be changed.
We used high quality point of sale materials that ensured the imagery used byt the brand was as bright, colourful and vibrant as the books. It also meant they would be very durable and require little refresh while set up in the stores.
We also managed all the logistics to ensure the point of sale was distributed and installed at each location correctly.
WHAT WERE THE RESULTS LIKE?
40% SALES GROWTH – the results were almost instant. Target retail stores were one of the first completed and they achieved a 40% uplift in sell through
.
"Excellent in-store presentation and point of sale display is critical to the Harlequin Mills & Boon range. Every aspect of the design, manufacture and installation of our new in-store marketing for Target went exactly according to plan. 

 

All the critical deadlines were met on, or ahead of, schedule. The attention  to detail from Genesis on post roll-out follow-up has been exceptional."
CAN WE DO POINT OF SALE FOR OTHER TYPES OF PUBLISHING COMPANIES?
Genesis Retail Displays have been doing custom design point of sale for lots of different brands in Australia in the print publishing sector. We have designed things like free standing display units, cardboard shippers, permanent wooden display fixtures and many other types of pop executions.
Point of sale displays (POS) or point of purchase (POP) displays are the best way to attract shoppers in busy retail outlets and ultimately encourage them to purchase your product. Doing this in mass merchant retailers like Big W is no exception.
POS can be used on-shelf in retail stores or ideally be free-standing like the examples above.  On-shelf creative POS displays can make your product stand out among your competitors. POP free standing floor displays (FSDU's) can in effect create new space for your product offer when the store displays are already full.
By trying to influence the "last 3 feet" of the path-to-purchase you can increase shopper traffic into people actually buying your product, especially compared to items sitting on a normal shelf planogram. 
As demonstrated in this example, POS displays come in many forms from more simple application such as wobblers, posters and bunting to cardboard counter displays, free standing cardboard displays and pallet displays to semi-permanent displays and even permanent displays.
Taken to the next level Interactive POS displays allow your shopping customer to know what your product is like rather than asking them to guess what the product is like.  Displays that allow shoppers to touch, feel and experience the product provide a much more immersive experience for shoppers and have been shown to double sales.