Reusable POS displays for retail
Point of sale displays designed & produced in Australia
How can brands solve point of sale display replenishment problems with reusable POS?
The point of sale design brief we had for this project was a little unique. The client had to manage multiple brands across thousands of small format retail store environments. They were warehousing point of sale displays that had fixed designs that were in different shapes and sizes. This made it difficult to manage their point of sale display stock because they would have different amounts of different designs.
The other problem they faced with managing their pos display materials was the inability to act quickly if there was a spot promotion, new seasonal campaign or other brand/retailer initiated activity to drive consumer sales. For the mobile phone pre-paid market this can mean the difference between getting thousands of new activations or pre-paid renewals.
They were forced to produce brand new point of sale to suit. So their situation meant lots of logistics issues, added costs & an inability to move quickly, all the while they had to manage three different brands.

How did we solve their point of sale material scenario?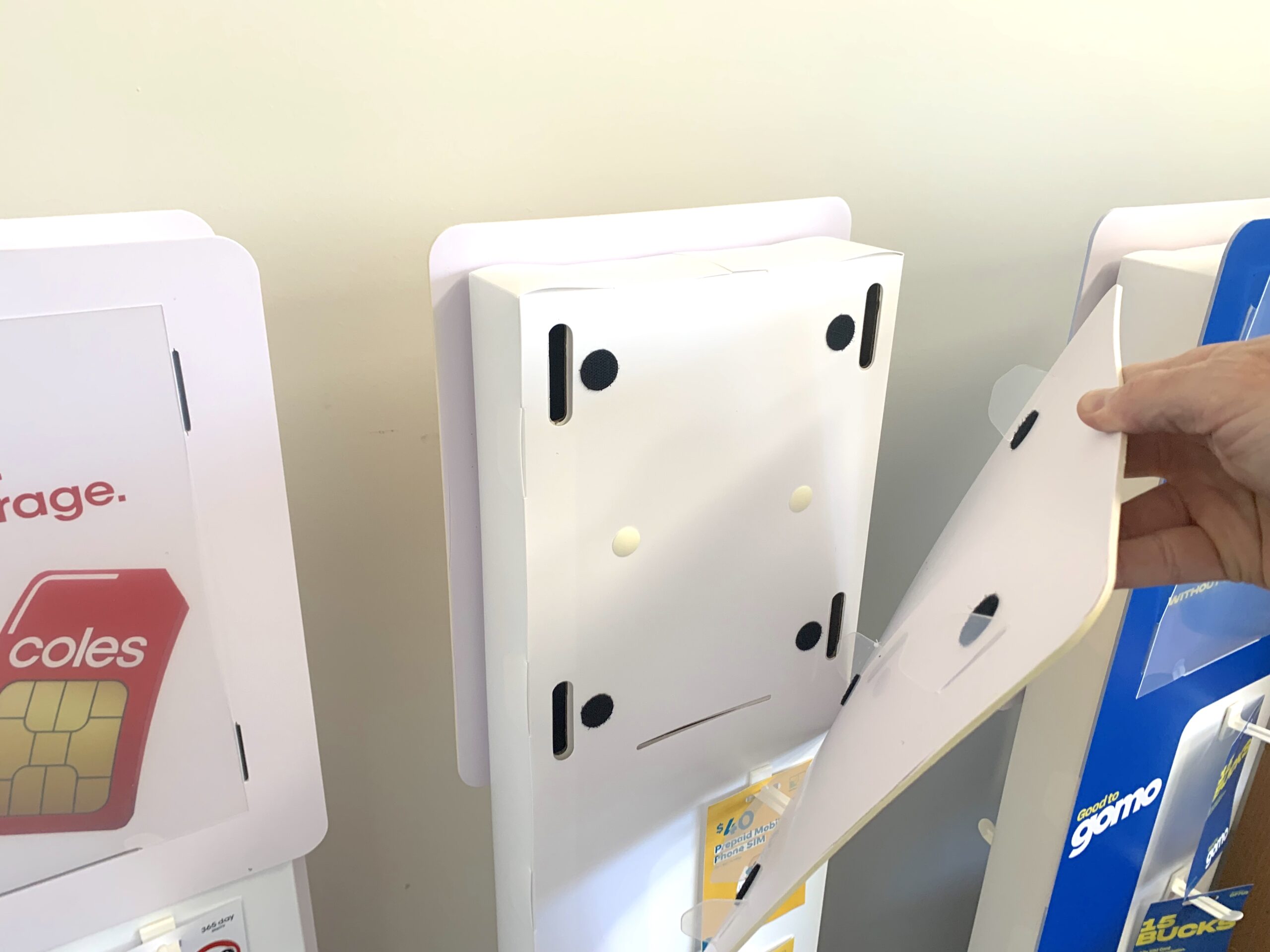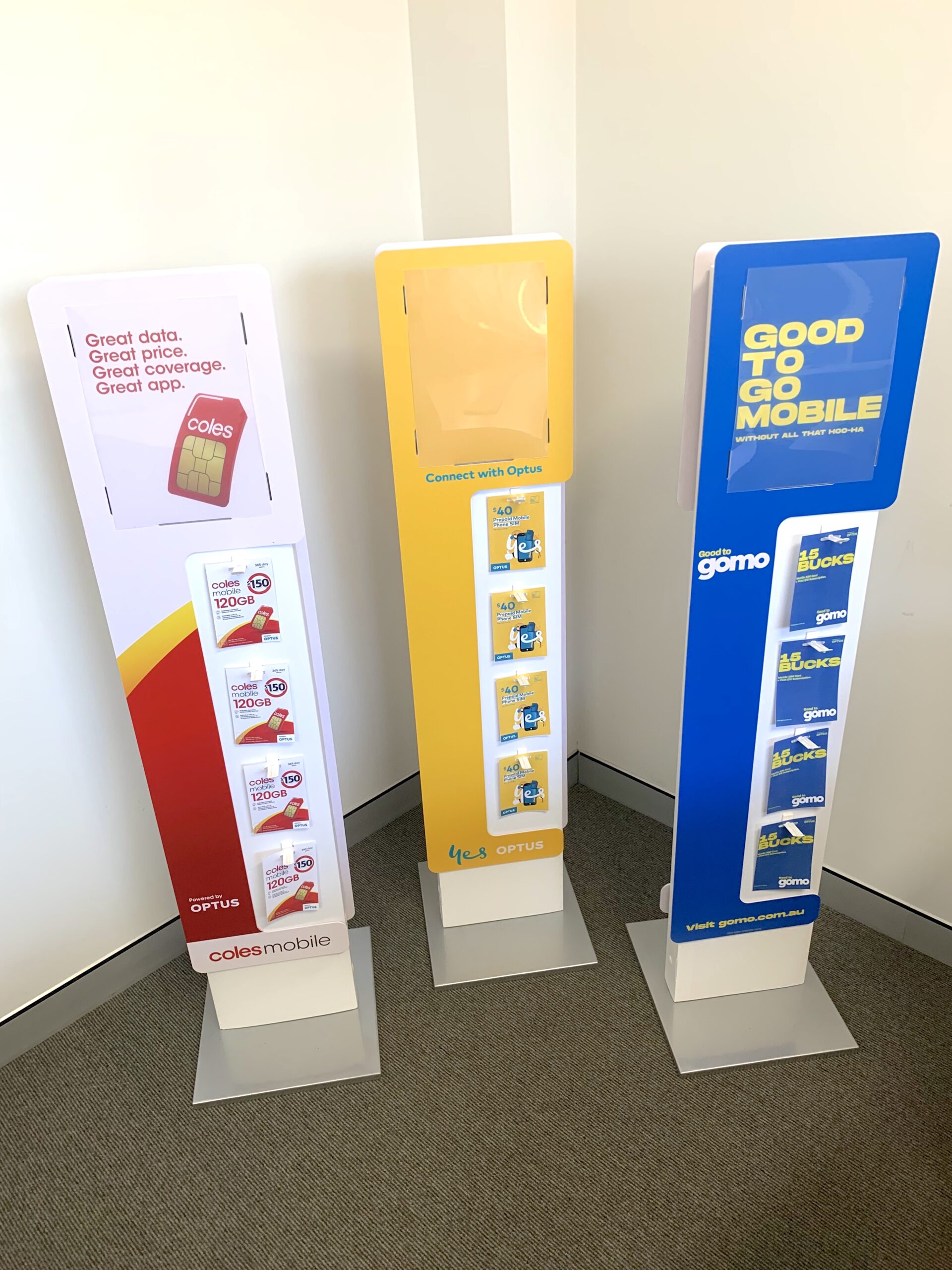 Using our usual and very thorough design briefing process, we spent time understanding their problem by looking at the retail stores they were displaying their products, assessing their current designs & then coming up with some proposed solutions for them to consider.
Using our industrial design expertise we can apply different methods to the construction techniques applied to a freestanding display unit. In this instance, we wanted to create something that had a fixed framework that could have its 'skin' or branding changed easily.
This would solve two main problems for the client;
They could use a single design across all three brands they were managing. This would solve replenishment issues, make planogramming management easier & create a single, uniform way to construct displays in the retail stores vs managing three different designs.
The display could be easily changed to display different artwork, promotional messages or new brand information. This would make it easy to show off new products, seasonal activations or one off promotions. Their field team could quickly change the panels with minimal disruption to the retail environment & be done within 60 seconds.
So our point of sale design ideas for this project would reduce the cost of managing their materials, reduce implementation times & enable them to be more reactive to the marketplace.
What is reusable point of sale display material?
We sometimes get point of sale display material design briefs that require the ability to reuse them. In many cases the brand wants to be able to literally pick up the displays and put them in another location. In other cases like the one above, they want to change a single element like a header card or backboard.
Depending on the point of sale marketing budget available some of these aspects can be incorporated into the design from the outset. It means the pos display is being created from the beginning to be either updated or moved.
A lot of times brands might get fooled by a point of sale display agency who will say their displays are durable or reusable. Although the devil is in the detail, it pays to ask what materials will get used or what actual design elements will create that durability being offered.
What we do is use our expertise using different material types which could be metal, wood, or perspex in some situations. Although for many executions that require long floor life we will start working with a mixture of cardboard, polypropylene, metal and expanded PVC to design a solution that is durable, hard wearing & maintains its form over a long period of time.
It is an important consideration because in the case of this pre-paid mobile phone card freestanding display it is going into high traffic locations like supermarkets, petrol stations and mobile phone stores. So thousands of people are going to walk past, use or bump into them every day.
The clever part of our design is the framework is super durable & the reusable faceplates can be freshened up quickly without any tools, instructions, high-paid skilled labour – it's a simple pull off, replace, re-merchandise.