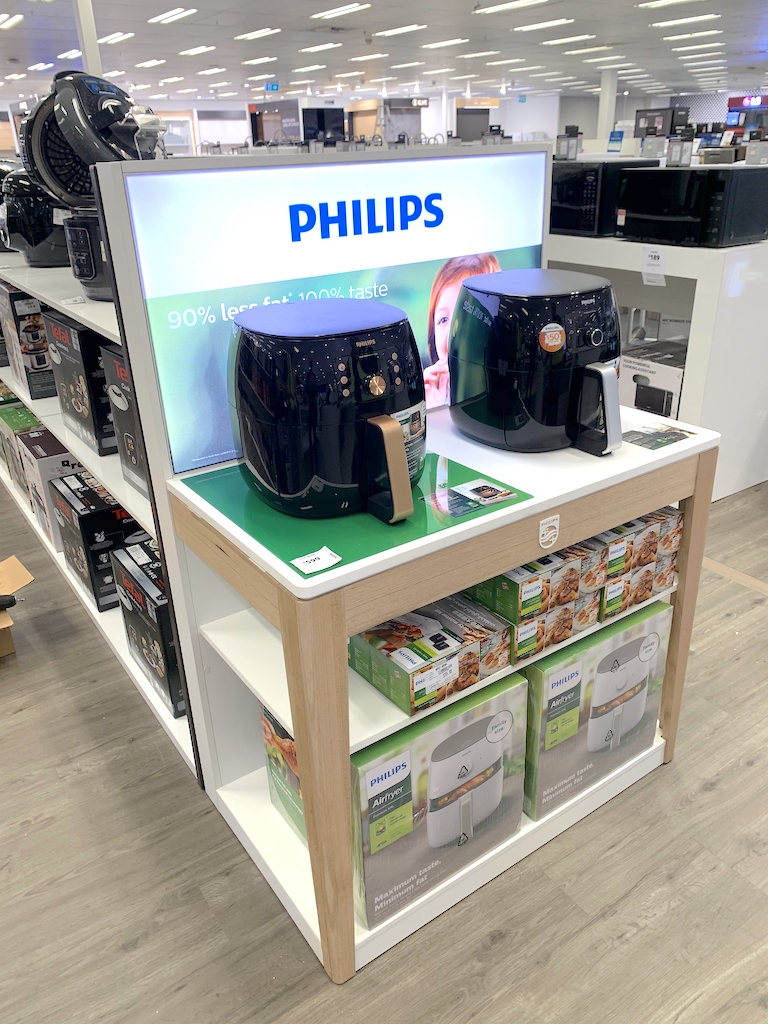 Cooking Appliances End Cap
Point of Sale Display Ideas
Point of sale design agency in Sydney for electrical products.
cooking appliances record global growth

Consumer behaviour is changing around the world and there is an increasing level of demand for cooking appliances that incorporate some level of innovation or connectivity. If there was any good stories related to COVID this year it is the resurgence in passion for home cooking. People bought cooking appliances like bread makers, air fryers and other appliances in huge numbers. Technavio estimates the  global smart kitchen appliance market size is poised to grow by USD 6.16 billion between 2020-2024 at a CAGR of over 9% for that period.
The kitchen cooking appliance market is being fuelled by changes living standards around the world and a growing interest in smart connected home appliances. The other aspect that is driving growth of cooking appliance purchases is the demand in energy efficient appliances that have very user-friendly interfaces.
Globally this market is fought between some of the world's biggest brands such as AB Electrolux, Glen Dimplex Group, Gourmia Inc., Haier Smart Home Co. Ltd., Philips NV, LG Electronics Inc., Newell Brands Inc., Robert Bosch GmbH, Samsung Electronics Co. Ltd., and Whirlpool Corp.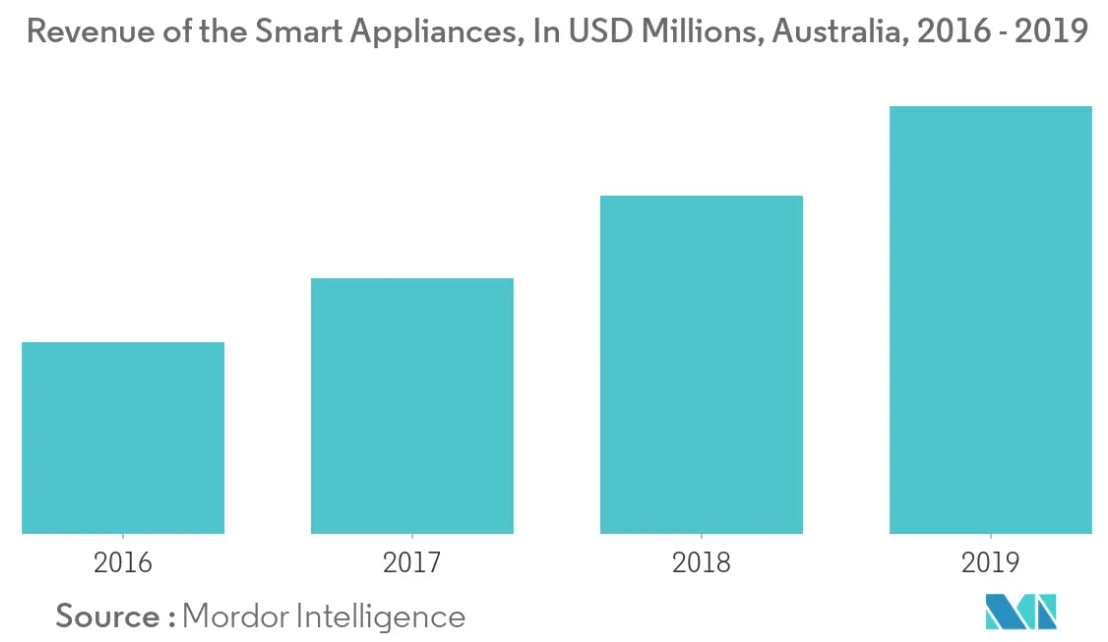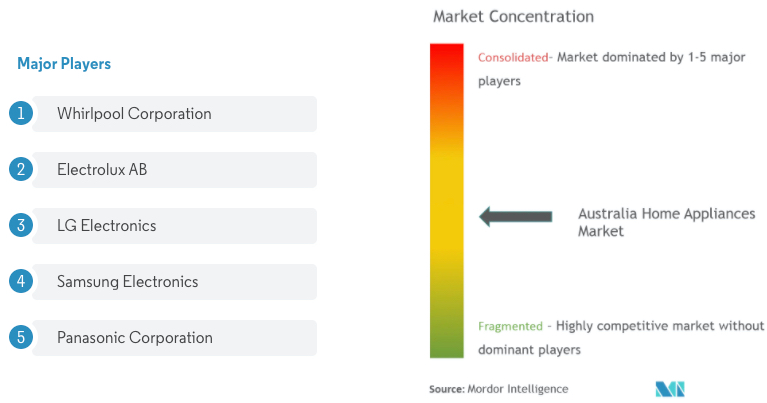 Australia is experiencing the same trend with retailers like Harvey Norman, JB Hi Fi & The Good Guys all dedicating larger portions of their stores to home appliances with big reductions to categories like digital SLR cameras.  The Australian cooking appliance market is quite competitive and locally brands such as Whirlpool, Electrolux, LG, Samsung & Panasonic dominate most of the retail floor space in stores.
Statista estimates that revenue in the Household Appliances segment is projected to reach US$775m in 2020 Revenue is expected to show an annual growth rate (CAGR 2020-2025) of 7.1%, resulting in a projected market volume of US$1,094m by 2025 with penetration rates forecasted to reach 28.8% by 2025.
This is positive news for small appliance kitchen brands & emphasises how vital it is to differentiate at retail store level. At a minimum 
a) Make it easy for shoppers to find your brand and products 
b) Engage them to communicate the benefits of your particular product & give them the confidence to make the purchase.
This is where point of sale displays come into play. There are several display formats that work well in consumer electrical retail stores to achieve this, one of which is an end cap or gondola end display which we will explain in a little more detail below. 
At Genesis Retail Displays we act as a point of display design agency for global brands to create custom made end caps that are specific to each each brand and product that fits within the dimensional floor space or planogram requirements of the retailers. We are a point of sale design agency that can produce custom end cap displays for Harvey Norman, The Good Guys, Bing Lee and JB HiFi in Australia.
cooking appliances POINT OF SALE DISPLAYS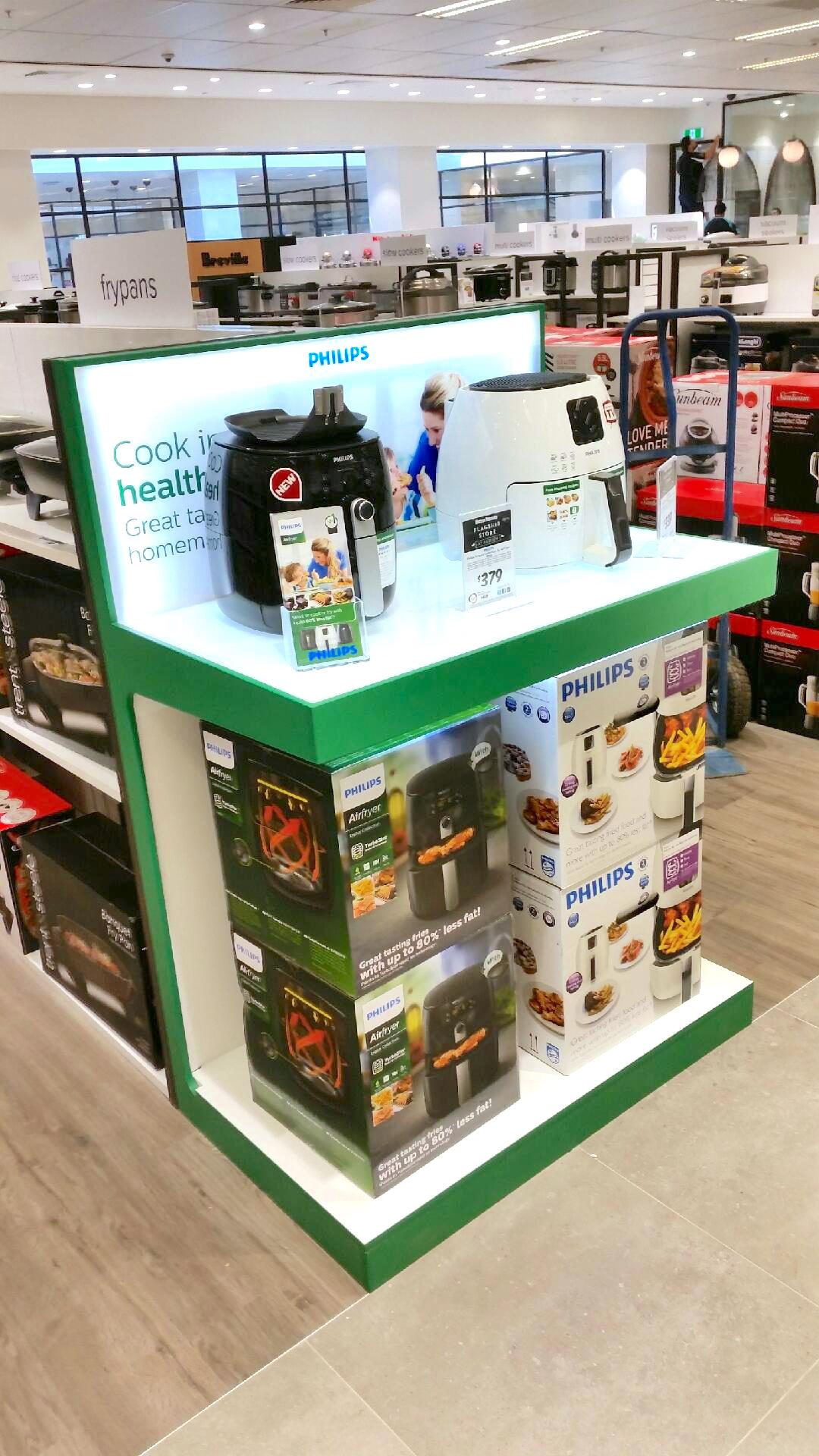 Products with more features
As noted, the growth cooking appliance demand is being fuelled by;
Higher levels of technology available in a wider range of products
Smart or 'connected' devices that do more than traditional single function cooking products
Greater product choices
This adds a level of complexity to the product selection process for any shopper trying to research, compare and purchase a cooking appliance product. For most consumers this will be quite an overwhelming experience and could lead to nothing being purchased at all. If you combine that with the ever decreasing levels of service that sales staff are able to provide it makes point of sale displays for cooking appliances a critical tool to help grow sales.
End cap product displays
In the example above we designed permanent end cap displays for the Philips range of Air Fryer products. They are cooking appliances that are packed with technology with smart sensors that can automatically adjust time or temperature when cooking, various cooking programs & heating technology that can help cook food 1.5 times faster than a normal oven.
So the brand wanted to make sure they could stand out on the shelf and our point of sale design agency helped them complete a national roll out of end cap point of sale displays in Harvey Norman and other appliance retailers.
Custom point of sale design ideas
The main design features of these point of sale displays included;
A mix of durable point of sale materials including wood and high quality plastics.

 
Open shelving that enabled product visibility from multiple angles.

 
Headerboard integrated lighting to create visual impact from the aisle end.

 
Interchangeable panels that could be updated for seasonal promotions or product model updates

.
An end cap design that included soft edges to ensure maximum OH&S levels for retail shoppers including small children.
A design that looked and felt like the existing retailer shelving making it feel like it was always part of the store environment.
A design ID that could be applied to other product categories to give the brand a unified look and feel in the store.
why are POS displays so important?
Point of sale displays (POS) or point of purchase (POP) displays are the best way to attract shoppers in busy retail outlets and ultimately encourage them to purchase your product.
POS can be used on-shelf in retail stores or ideally be free-standing like the examples above.  On-shelf creative POS displays can make your product stand out among your competitors. POP free standing floor displays (FSDU's) can in effect create new space for your product offer when the store displays are already full.
By trying to influence the "last 3 feet" of the path-to-purchase you can increase shopper traffic into people actually buying your product, especially compared to items sitting on a normal shelf planogram. 
As demonstrated in this example, POS displays come in many forms from more simple application such as wobblers, posters and bunting to cardboard counter displays, free standing cardboard displays and pallet displays to semi-permanent displays and even permanent displays.
Taken to the next level Interactive POS displays allow your shopping customer to know what your product is like rather than asking them to guess what the product is like.  Displays that allow shoppers to touch, feel and experience the product provide a much more immersive experience for shoppers and have been shown to double sales.
Where are point of sale displays located?
A point of sale display (POS display) is a specific form of sales and marketing material that is generally found near the cash register areas of a retail store or in other prominent locations like an end cap, aisle bay, promotional goods area or demonstration tables. So these point of sale displays have the aim of attracting a shoppers attention away from the standard shelf placement and planogrammed range of products to try and help mind share for that brand or product. Typically the brands that execute great point of sale displays will increase their sales.
What are point of purchase displays?
Point of purchase displays come in various forms and in many cases some people might consider them as the items next to a register but really the whole store is a 'point of purchase' when you think about it. So a point of purchase display can be anything from simple countertop shelf signage to things like free standing cardboard product display stands or even permanent interactive point of purchase displays that have video, lights and sound. Genesis Retail Displays are experts at solving product point of sale display scenarios to get products of all shapes and sizes on display in different parts of a store. We are a specialist in designing point of sale in Sydney that can be used in any retailer in Australia.
How much does a point of purchase display cost?
We love this question and the simple answer is something like 'how long is a piece of string'. While this sounds silly the fact is that the cost of point of purchase displays can vary from $1,000 to $100,000 depending on the scale and complexity of what you are trying to achieve. If you are happy with mass produced, pre fabricated units then head to Officeworks and buy their standard product display stands. The challenge you will find is trying to align standard designs to your brand, product weight and colouring by trying to adapt off the shelf items.
If you want a point of purchase display that is effective then the only solution is to get custom designed displays that perfectly suit the size, weight and shape of your product, your corporate identity guidelines and your intended purpose. While the cost of doing this is higher, you get a higher quality and more impactful result.
What is the difference between point of sale and point of purchase?
A common misconception is that point of purchase refers only to the space within the store where the transfer of money for the goods occurs, such as the checkout. Although really, point of purchase can be broader than this and be considered the whole shopping environment. The actual checkout area is usually referred to as the "point of sale," because it is at this point that the buyer has given over their money and completed the sale. The terms get used interchangeably, but think of point of sale as a more narrow way to look at point of purchase. By these definitions, point of purchase marketing can be understood as whatever marketing or merchandising materials your brand provides to its retailers in order to help sales of your product in the store, or whatever materials you include with your product to accompany it where it is displayed.
What is a point of sale promotion?
In most cases a point of sale promotion is referred to as either POS or POP and mean similar things. It is the idea of promoting your brand and product by creating materials that can allow your product to be placed in extra areas of a retail store environment. You can get your product placed in off location areas of a store that are in high traffic areas to create incremental sales opportunities for your product. Doing a point of sale promotion is the best way to increase sales by taking advantage of the existing retail store visitors who are already shopping.
What is POS example?
Genesis Retail Displays has lots of POS examples in our online photo gallery that have been created for different retail locations like grocery, pharmacy and electrical stores.
How does a POS work?
POS or POP displays work by drawing attention to a new product, seasonal promotion or special offer that is presented using different types of point of sale display designs like free standing display units, PDQ's or even semi permanent end cap displays. By creating something different to the normal retail shelving space you immediately create a visually impactful area for your brand and product that has a greater chance of converting shoppers into buyers by drawing their attention.