Custom designed cardboard product displays for IGA Supermarkets in Australia
Point of sale displays designed & produced in Australia for IGA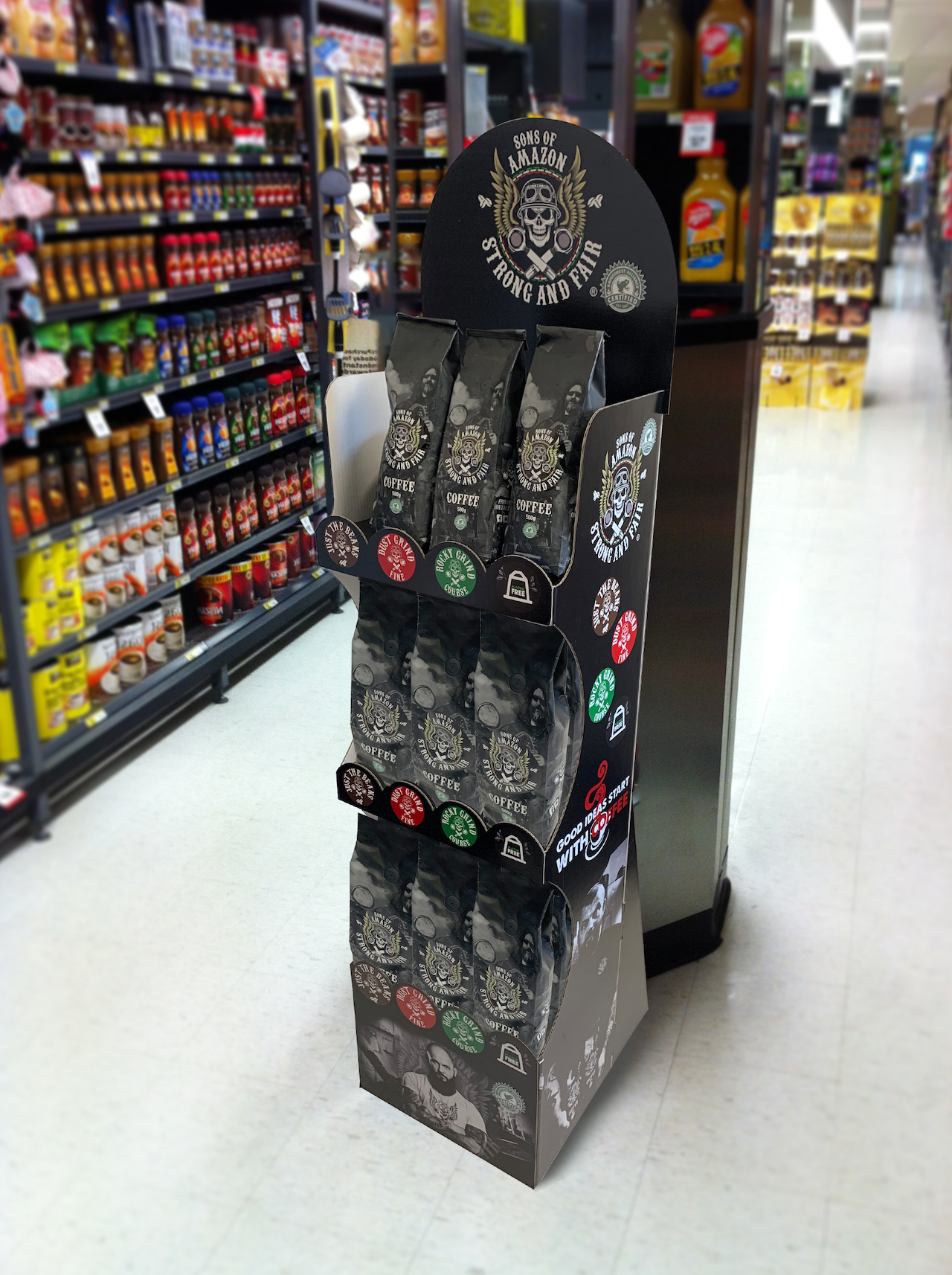 Sons of Amazon chose Genesis Retail Displays as their point of sale design agency in Sydney to create a custom made cardboard floor standing unit and countertop display for their coffee products. These cardboard product display stands were designed to be used in IGA Supermarkets in Australia.
Sons of Amazon is considered some of the strongest coffee you can buy in a supermarket with their beans ethically sourced, traceable and straight from the Amazon rainforest. Their design brief was simple, the cardboard display stands had to look bold, hold the weight of the coffee bean products & suit the smaller footprint of the typical IGA Supermarket retail store network.
The Caffine Informer rated Sons of Amazon as one of the top 12 strongest coffee bean blends you can buy. 
Why did the brand want point of sale displays in IGA?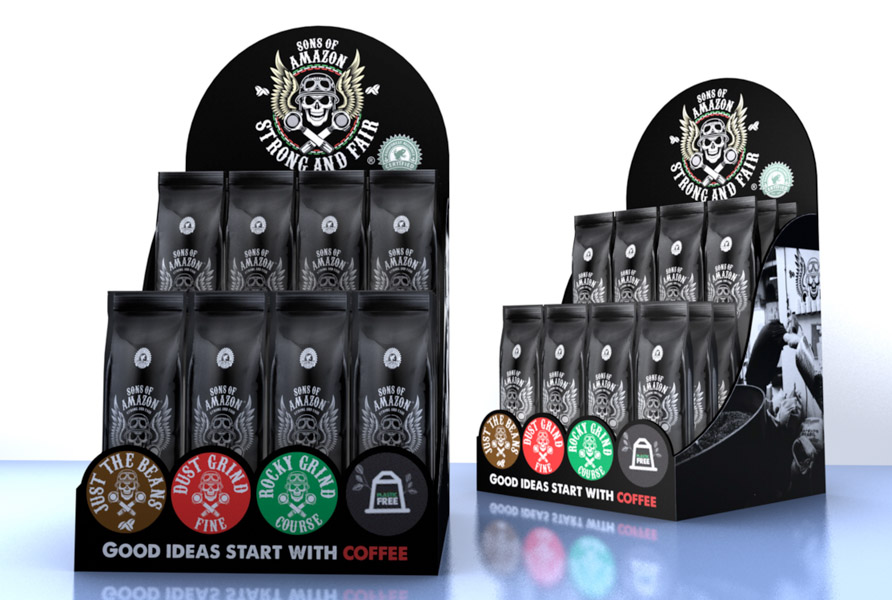 The Sons of Amazon coffee brand is relatively new to Australia began having a local precense in February 2019 selling their products directly to consumers from their website. Over the last two years their brand has gained popularity & their sales volumes have increased. They secured product ranging in IGA Supermarkets which meant their product lines would be included in the next round of planogram updates for the coffee sections in the retail stores.
Retailer ranging
To launch the brand within IGA they also secured support from the buying team to place cardboard product point of sales stands either as freestanding display units or countertop displays in selected supermarket stores. 
Increased store support
Larger orders
Shelf space %
Fast customer awareness
What point of sale product display did we design?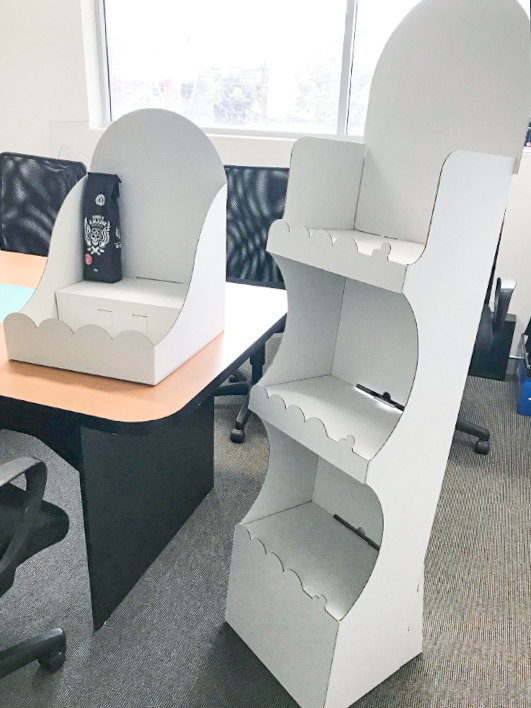 Genesis Retail Displays is a Sydney point of display agency that specialises in large volume, custom made, point of sale displays. For this brief we started with a clean sheet of paper to design a freestanding cardboard product display unit that coudl hold multiple bags of coffee & a smaller countertop unit.
We had to solve a few display problems to be suitable for retail use;
The displays needed to have printing on all sides.


They had to be strong enough to take the weight of multiple 1kg bags of coffee.


The footprint had to be as narrow as possible to suit the small footprint of IGA supermarkets.


The design needed to make it easy for people to self select from the range of different products.


The countertop display needed to embody the same elements of the floor standing display.


It had to be easy for Customers to grab a bag quickly and easily to put it into the shopping trolly.


The shape and size had to easily fit three bags of coffee while being easy for store staff to replenish the stock
Can cardboard product display stands be pre-packed and sent to IGA supermarkets?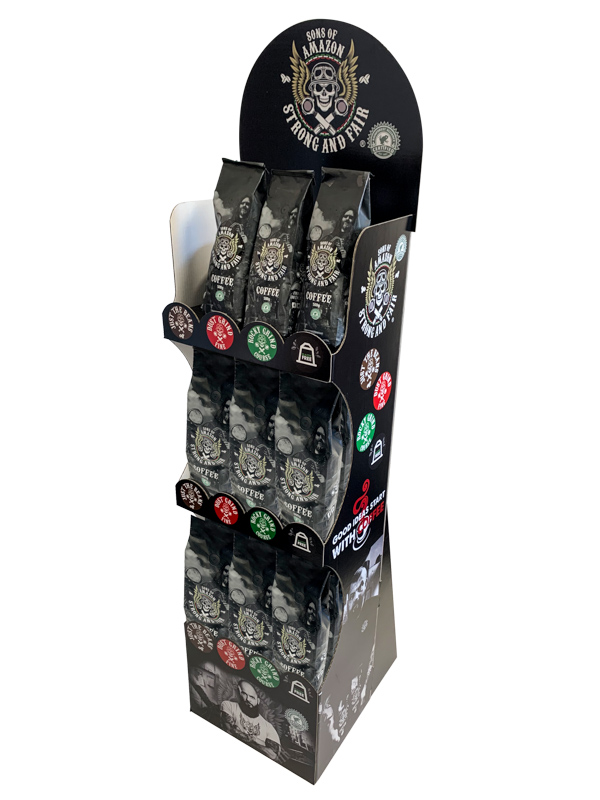 One of the point of sale display design and manufacturing services Genesis Retail Displays offers is the ability to pre-pack and ship your product displays.
Once the design and production phase is completed we can have the stands built and filled with your products so that when they arrive into a supermarket like IGA they are ready to go on display immediately.
We can even custom design the cardboard packaging that they are shipped in to make sure any potential damage is limited during transit.
This means it can save time for the retailers because their staff don't have to build anything. This improves your level of compliance for getting the displays put on the retail shop floor as well. It can also reduce the costs of needed to engage merchandisers to visit stores to build displays.