Clever lubricant brand display solutions for mechanic workshops
Custom designed product displays created in Australian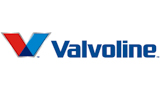 One of the benefits of using a local point of sale design agency is that a brand can start with a blank sheet of paper to create any type of product display that is required for a particular application.
In Australia the automotive lubricants market was estimated to be valued at $ 1.2 billion in 2019 with projected growth rates to continue as vehicle sales continue to surge, especially for larger SUV's and trucks. The increasing production volumes and sales of light commercial and heavy duty vehicles keeps driving demand for automotive lubricants. This also means things like servicing, maintenance and repair services are thriving as owners try and keep their vehicles operating with all the different manufacturers using various  synthetic and semi-synthetic lubricants for engines, transmissions and other vehicle parts.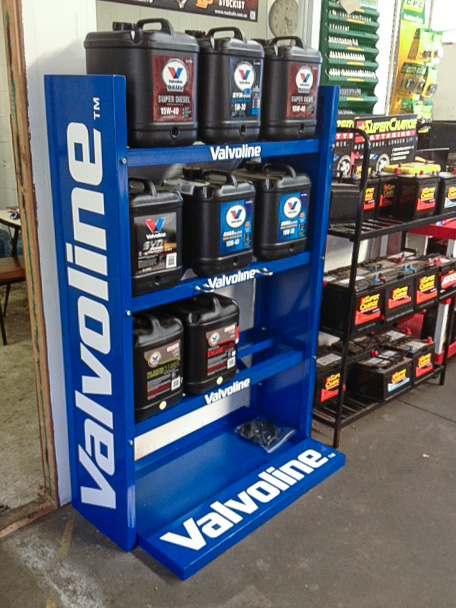 This market trend becomes a landscape that each brand has to compete in. Different from traditional retail, the mechanic workshops may not follow the manufacturer recommended lubricant brands of choice and decide to use what they prefer to use instead. This creates opportunities for lubricant brands like Valvoline to take market share away from other brands. All the typical skills relating to point of sale display design don't have to be restricted to retail shops. In this example we have solved another product display problem to make sure the brand is easily located, navigated & used.
In the example above we were given a point of sale display brief that required developing a design for a permanent display stand that could display lubricant products in mechanic workshops, service stations and other automotive service locations.
Valvoline wanted a product stand design that was made out of metal to deal with the rigours of workshop environments that could also hold the weight of multiple high capacity lubricant dispensers. It needed to be easy to access each dispenser to fill containers or smaller dispensers to use elsewhere in the workshop.
What did we design for workshop use?
Genesis Retail Displays has worked with Valvoline for numerous projects that were focussed on retail shop floor environments. In those situations we applied our understanding of shopper behaviour to create product display shelves that helped present the lubricant range, aid consumer selection with upsell cards and implemented strong shelving designs for durability.
For this point of sale product display to be used in a workshop the task was much simpler. The shelving unit needed to be big, bold and carry the weight of nine or more high capacity lubricant dispensing units. So after we conducted some intial weight testing, we designed a simple, but effective unit that would take up minimal space, fit each Valvoline lubricant dispenser perfectly & be easy to access.
With very close collaboration with Valvoline, we worked through several options and prototypes to arrive at this solution which has increased brand footprint and sales in hundreds of workshops all over Australia.
Our design meant that staff can easily see what is available and Valvoline would maintain really strong brand precense in the workshop area with its logos permanently displayed.  This would mean it is less likely for other branded items to be placed on this display (unlike the one pictured above which is very generic using a removable header card)
We also thought about product spillage and designed the bottom tray to use Valvoline's Ultrazorb product to soak up any small spills. It is this attention to detail that makes Genesis Retail Displays different to other point of sale display companies in Australia.
Some of our other brand displays lubricant companies like Valvoline